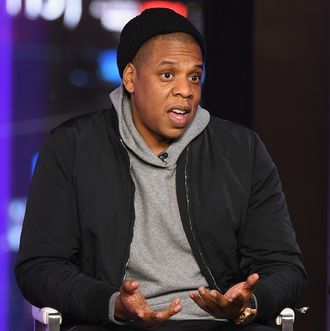 Photo: Dave Kotinsky/Getty Images for Spike
For those of you who couldn't get enough of Jay-Z's 13th studio album, 4:44, good news: A physical edition of the album, out on Friday, features three bonus songs — "Blue's Freestyle / We Family," "MaNyfaCedGod," and "Adnis," all of which could be heard in the visual teasers of the album. As of now, the three songs, which up the album's track count from ten to 13, have leaked their way onto the internet. "Blue's Freestyle / We Family" has a very accurate title: Not only does Blue rap on the track, but it's also downright adorable and very, very catchy, even though her verses aren't the easiest to understand, as Twitter has been quick to point out.
Basically, 2017's new catchphrase will probably be "boom shakalaka," and it's all thanks to Blue. The song also has Jay-Z admitting he's "more worried about Trump than anyone overseas." Meanwhile, "Adnis" treats the words and ideas Jay-Z never got a chance to write down or say as missed chances, addressing Hov's father and ruminating on Hov's upbringing. "MaNyfaCedGod" features James Blake and deals with Beyoncé's forgiveness, her and Jay-Z's reconciliation, and their On the Run Tour. The song also references a quote by Rumi, further solidifying the rumor that Hov and Beyoncé's twins are named Rumi and Sir.