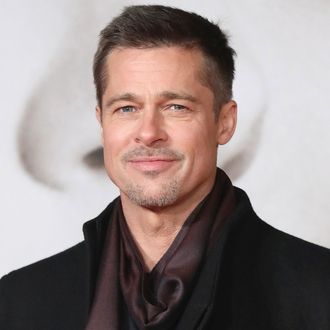 Photo: Tim P. Whitby/Getty Images
What should Brad Pitt and Frank Ocean's friendship moniker be? Brank? We'll think about it. Anyway, the duo decided to take their burgeoning friendship to new heights this weekend when Ocean brought his pal Pitt onstage during his FYF Festival set to just generally hang around and take some fake calls on his cellphone. It unfolded as such: As Ocean launched into a cover of "Close to You" by the Carpenters, Pitt walked onstage without any acknowledgement, where he remained talking on his cellphone for the entire song. (A projection screen made it easier to see.) You can try to make sense of it, but it's better to just watch and enjoy.
Pitt got on Ocean's radar a few months ago, when he revealed in a candid interview with GQ that he had been playing Ocean's music on loop to cure the post-divorce blues. "I've been listening to a lot of Frank Ocean. I find this young man so special," he explained. "Talk about getting to the raw truth. He's painfully honest. He's very, very special. I can't find a bad one." A few weeks later, Ocean repaid the compliment by wearing a shirt with Pitt's face on it during another festival performance. Angelina who?