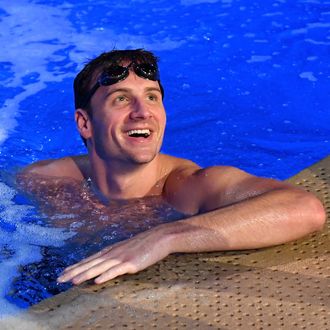 Photo: Ethan Miller/Getty Images for Cirque du Soleil
2016 was a VERY busy year for your brain, but if you quickly flip back through your internal WTF mental catalog, you might recall that odd incident where U.S. gold medalist Ryan Lochte allegedly lied about being mugged while attending the Rio Olympics last August. Brazilian police determined that Lochte, who was out celebrating with fellow swimmers Gunnar Bentz, Jack Conger, and Jimmy Feigen, had not been robbed at gunpoint like he subsequently told Billy Bush. Instead, police asserted that Lochte and his teammates trashed the bathroom of a Rio gas station. Subsequent reports, like the one conducted by USA Today, indicated that armed security guards had approached the Olympians and demanded payment for the alleged damage to the bathroom, a run-in Lochte later publicly embellished, at one point claiming a gun was held to his head. According to USA Today, Lochte had been charged with "falsely communicating a crime to authorities" due to his "exaggerated" retelling of events.
However, a Brazilian appellate court dismissed the charge on Thursday, determining that because "Rio police had initiated the investigation, not Lochte," the swimmer had not technically filed a false report and did not break Brazilian law. Following the debacle, Lochte was suspended by the United States Olympic Committee and USA Swimming for ten months, a suspension that expired July 1 of this year. Now that Ryan Lochte has been cleared, feel free to completely jettison this bit of 2016 like a piece of flotsam, bobbing away in the wake of an extremely fast-swimming, bleached-blond dolphin man.