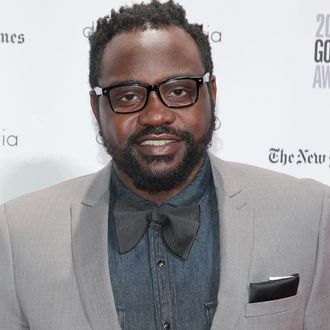 Brian Tyree Henry.
Photo: Jemal Countess/Getty Images for IFP
Less than a year after FX's Atlanta put Brian Tyree Henry on the map for his performance as rapper Alfred "Paper Boi" Miles, the actor was nominated Thursday for an Emmy for his guest spot on NBC's This Is Us, which showed the world he's also got singing chops. (This is Us and Atlanta were also nominated for best drama and comedy, respectively.)
Henry, who is currently in Chicago filming Steve McQueen's Widows, was so emotionally overcome when he spoke to Vulture on the phone that he kept repeating the word "great" until he came up with a better adjective. (More on that later.) Henry said he'd been receiving "crazy congratulations GIFs" all morning. His favorite? "The ones that are of me are really funny. I'm like, 'Nice touch guys. That's really nice.'"
Let's talk about Atlanta first. The show got nominated and Donald Glover got nominated. That's big for a freshman comedy with such a distinctly black point of view.
I don't wanna say anything corny like, "It's a dream come true," but this is unlike anything that I could have even fathomed. It's such a great time for this show and people are taking notice and people are showing us love, so I'm really glad for that. I have no words. I'm in Chicago looking at the skyline like, "What the fuck?!" So I'm beyond overjoyed for this. It's so great. And I'm glad that all of this is happening before we even started our second season. I can't even, I can't even. I'm the most non-eloquent person right now. It's just really, really, really great.
Although Insecure sadly didn't get nominated, the comedy category has so much diversity. You're competing against Master of None and Black-ish.
People are woke as hell right now on great television, so let's keep 'em that way. That's what I say!
Donald Glover isn't available today because he's in the U.K. working on Star Wars. Have you been in touch?
We've been all reaching out to each other, sending love this morning. There's nothing but love. Everyone's ecstatic and just really, really, really proud of the work we've done. Everyone is sending love and I'm sure we're gonna keep sending crazy texts throughout the day. I'm definitely one that will text them in all times of night just to be like, "Oh my God, guys, this is it, this is it!" I'm probably gonna take a video of me running down the street screaming in Chicago just to send it to them.
You're nominated for the road-trip episode on This Is Us, where you sang that beautiful song. 
Ah! It's just the best. That entire show, everyone, I was so happy for Milo [Ventimiglia] and Chrissy [Metz] and Sterling Brown! I'm just so, so enamored with every single one of them. And Dan Fogelman, man, I can't even express how grateful I am to be a part of their family and that they allowed me to come in and do my thing. It's great. I need another word. I need a thesaurus! I need something other than great. I'm gonna use "resplendent" all day. Resplendent is what it feels like! It's resplendent!
Why don't you just sing how you feel?
Yeah, just sing all day! I've been getting a lot of "We Can Always Get Back to This" texts, like nonstop, which is really great. I'm just so grateful that I was able to be a part of that and that we're out here, man! We're all out here! I'm trying not to say its a dream come true, but it feels like a dream! It's unbelievable. It's unbelievable.
I'm not trying to bring you down, but I know that you must be thinking about a special someone today. [Editor's note: Henry lost his mother, Willow Kearse Rice, in May 2016.]
Very much so. Very much so. But you know what's great about it is this is all her. You know, this is all her. That episode [in This Is Us] in itself was all her so I can't, in any way, be met with any kind of sorrow today because this is my mother. This is her. I'm so grateful and so lucky to be looked over by such an amazing angel, honestly. So this is her. Instead of saying, "This is us," I'm changing it to, "This is her."
That's so sweet.
This is beyond anything I could have ever imagined, but I know she could have imagined it for me. You know, all homage to Willow Kearse, man. All to her. All to her.
You're best friends with Sterling K. Brown, who was nominated for lead actor in a drama. Who sent the better text or GIF today, him or Donald Glover?
Well, Sterling called last night. [Laughs.] He's been busy on Hotel Artemis and I've been in Chicago. He called and I said, "Tomorrow's the day, man. How you feeling? What should we do? Like, I don't know." And he's like, "Well I'm gonna sleep." And I was like, "Yeah, you should sleep cause you've burning the candle on both ends." But he called this morning just to say, "Hey man, you know, alright, here we go." We screamed a little bit. We screamed. I'm not gonna lie. It was just love. I'm just so honored to be up there with him and that I was in an episode with him, you know what I mean? This ride with my brother this year has been crazier than anything I've ever seen. I'm just so grateful, just so grateful to be a part of the number with him. It's surreal.
Are you working today?
No! I have the day off. I have a feeling the set knew that I'd be screaming and running around, so they were like, "Let's let Brian stay at home! I think it's okay!"
What are you going to do to celebrate?
I'm gonna see Spider-Man and The Big Sick because I want to support Kumail Nanjiani. It's a double-feature kind of day.