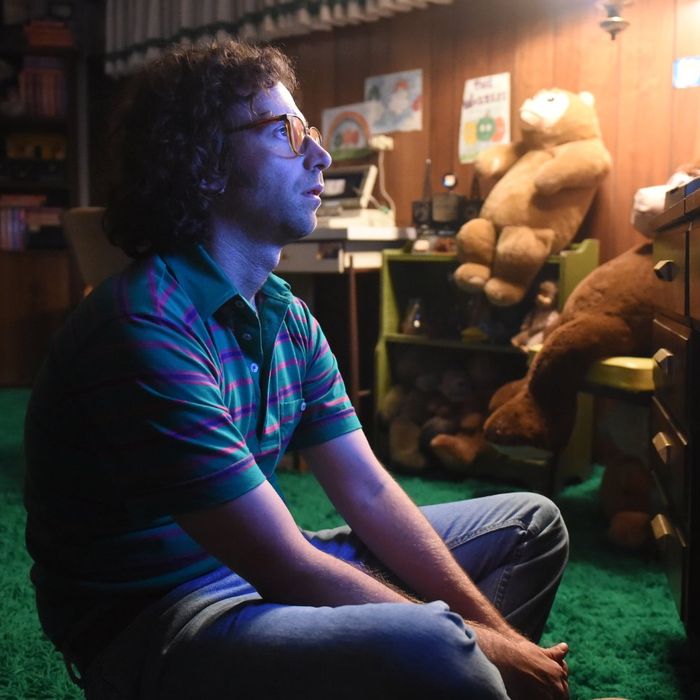 Kyle Mooney in
Brigsby Bear
.
Photo: Sony Pictures Classics
As frequently as we've recently seen onscreen kidnappers holding their captives in bunkers hidden from the outside world (seriously, so many times, let's hope it's a vast overrepresentation of reality) few stories have dealt with the fact that some people take to basements better than others. Sure, a basement is a horrifying place to imagine living out years of your life cut off from society, but it's also where so many socially unsure young people have voluntarily retreated to curl up in the arms of comfort media, far from the sun, where the hours and weeks can pass unnoticed. For Brigsby Bear's James (Saturday Night Live cast member Kyle Mooney), it's a little of both: He was kidnapped, unbeknownst to him, as an infant, and his new "parents" have kept him sheltered from society in an underground bunker, where his only cultural interaction is with the titular fictional (in more ways than one) children's adventure show.
From the jump, the film, which was co-written by Mooney and his friend Kevin Costello, sets the concept and quirk bar extremely high. These are such improbable, specific circumstances that one's first impulse is to keep Brigsby Bear at arm's length. But at every fork along the way, Mooney and director Dave McCary choose the intimate over the arch, while still maintaining a fragile sort of dark humor. This is a film that is asking much trickier questions than it would ever let on about the coddling effect of media and geek obsession, and the purging effect of storytelling.
We open with an episode of the show itself, a warbly VHS creation starring Brigsby Bear, who teaches lessons about sharing and caring while embroiled in an impossibly byzantine struggle against an evil sun god. Like any long-running show that you happen to jump into on the 700th episode, it's largely unintelligible, but there are also other tip-offs that something more sinister may be afoot, down to the oddly specific end-of-episode morals about trash disposal and its insistence that "curiosity is an unnatural emotion." From there, we meet James, who is diligently recording his latest video recap for the "Brigsby Bear fan community" before joining his "parents" for dinner, where they shake hands and toast to each other's mental fortitude and James recounts the latest Brigsby episode. Even before we realize the scope of James's circumstances, we understand that the show comprises the vast majority of his life experience: How to speak, how to interpret events, and even his first and only crush, are all informed by what he watches on his TV every day. It would feel outlandish if it weren't a mere exaggeration of how almost all us have grown up in front of the screen.
A perhaps more overtly meta factor of James's endlessly metaphorical kidnapping is that his false father Ted is played by none other than Mark Hamill, a figure who has been burned into the psyche of generations of children, basement-dwelling and otherwise. It's a fascinating choice for a film that walks all the way up to painting pop-cultural indoctrination as a form of emotional abuse, and geek obsession as trauma, before pulling back and turning it into an avenue for healing. When Ted and his wife, April (Jane Adams, underutilized), are busted and their compound raided, James is sent to live with his biological parents (Matt Walsh and Michaela Watkins) and his nouveau Daria teen sister (Ryan Simpkins.) James's first instinct (in marked contrast to his contemporary Kimmy Schmidt) is to retreat into himself, overwhelmed by so many new people and sensations. All he wants is the next Brigsby tape, and is horrified to learn the truth of the show's origins.
When confronted with the cold hard fact that there will be no more episodes, James's initial response is denial, and his second response is action. He enlists his sister and her friends, as well as a detective with dashed stage dreams (Greg Kinnear), to help him create the ultimate Brigsby Bear finale. For those charged with ushering James into the real world, this presents a dilemma: Should he be made to let go of the fictional universe his captors stunted him with? Or has he struck upon a healthier way to work through it?
James speaks in Mooney's deadpan vocal fry, and is monosyllabic when asked to participate in routine activities, but when he begins talking about his beloved bear, the words pour out of him almost like vomit; he stutters and trips over himself with enthusiasm. It elicits more than a few excruciating laugh-out-loud moments, but it's also tragic and vulnerable — not to mention frequently unpleasant. Brigsby Bear will inevitably be sold as an oh-so-random stoner cult movie, but what Mooney and McCary are getting at, with this nothing-if-not-original story of how mythologies shape us, is something uncomfortably real and of the moment.