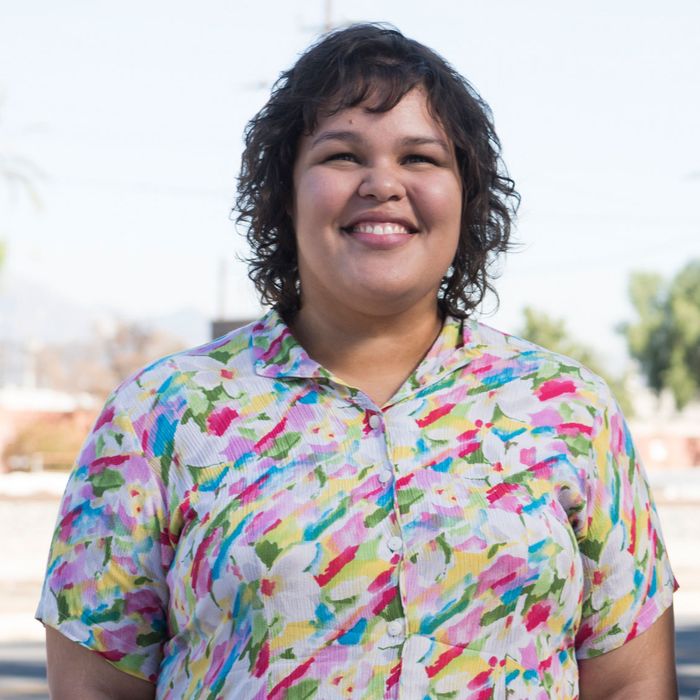 Photo: Erica Parise/Netflix
If the name Britney Young doesn't quite ring a bell yet (no, not that Britney Young — more on that later), maybe the name of her kindhearted character on Netflix's GLOW will. Carmen Wade, known in the wrestling ring as Machu Picchu, is the comedy's breakout supporting character, a young woman who hails from a wrestling family and whose father and brothers are having a hard time accepting that she, too, has the skills to drop-kick and toss people around. It's also the 29-year-old actress's big break after seven years of working as a production assistant on several movies and TV shows, including The Mentalist and most recently, Crazy Ex-Girlfriend.
Born in Japan and raised in Eagle River, Alaska, Young says she identified with Raven-Symoné from the moment she saw her on That's So Raven. (Young's mother grew up in Alaska and her father, who grew up in College Park, near Atlanta, is African-American.) Living in a Tokyo suburb until the age of 9, Young didn't know other people who resembled her or her family. "Here was this girl that looked like me, this light-skinned brown girl, curly hair, who was sassy like me," Young said, over an omelet breakfast in Burbank last week. "I really gravitated towards her. A lot of the things I do, people say, That's so Raven of you. But it really is, because I grew up watching her on The Cosby Show, and then when she got her own sitcom on Disney, I was like, This is my style, this is my kind of humor."
In a nearly two-hour-long conversation, Young also talked about her struggles with guilt, her days as a production assistant, and how playing Carmen has changed the types of auditions she's getting now.
When did you realize you wanted to be an actress?
I figured it out really, really young, like probably preschool, kindergarten age. My mom was actually my preschool teacher at West Tokyo Preschool, and she really believed in music as a learning tool. But I wanted to be Raven-Symoné growing up. I wanted to be that Disney Channel triple threat — singer, actor, dancer — all because of her. Growing up, I did plays but then when I got to high school, boys got in the way. And school and sports got in the way, and friends. So when I went to college, I felt a little bit guilty all of a sudden wanting to be an actor and not having worked for it. I thought I could just get a degree and still be in the industry. So I went into film, and I graduated from USC with $60,000 worth of debt, panicked again, and was like, I'm scared, I can't wait tables, I need to make money. So I went into production for seven years.
How did you get your first job as a production assistant?
I'm gonna be that person that everyone hates. It was not hard for me because the stars and planets aligned. The summer I graduated college, so 2010, there was a movie coming up to Anchorage. Universal brought up this movie called Big Miracle that had John Krasinski, Drew Barrymore, and Ted Danson in it. And the local newspaper put an ad out so I sent in my resume. I was back in Alaska, mooching off my parents for a summer and living rent-free before my student loans hit. My amazing unit production manager Robin Le Chanu said she basically hired me because I had a film degree. And then, typical Hollywood, it's who you know. They recommended me for things and I moved back [to Los Angeles] and started working down here more.
What sports did you play in high school?
I was a cheerleader and I was also class president, so those took up my time. Every single time a cheerleading competition would come around, there would be a winter play and I couldn't do both. So I'd always pick cheerleading just 'cause I'd already been in cheerleading, so why not pick it? And then, yeah, I don't know why I felt guilty. I think it's because I knew friends who wanted to be actors and had actually put in the time at that point. I have a weird Catholic mind. I'm not religious, but guilt is strong.
So how did you come to accept that you wanted to pursue this dream?
At USC, basically every class you have, you're watching a TV show or you're watching a movie as part of the curriculum. It was just being in this atmosphere of actually focusing on that once again. It started bubbling. But I don't think it was until really four years ago when I was the showrunner's assistant on The Mentalist and I would be included on all the casting tapes that would come to the producers, and then I'd be the one to tell the casting director who the producers had chosen for a role. And watching the tapes, I thought, That's what I need to be doing. As much as I love my job, why am I here on the production side of things when I want to be on the other side of the camera?
Had you taken any acting classes?
Until that point, no. But I started taking classes. And my friend was doing a web series [Stand Up Girls] at the time, and she said she had a part for me if I wanted it. One of the producers there, Robert Enriquez, is actually my manager now. He is one of those tough-love guys, but very supportive. I told him I'm scared to transfer over and have to wait tables possibly and not know if I can do this. And he was like, "I don't care, you need to be doing this. We're gonna make it work." He started sending me out on stuff and I actually started booking. I'm so blessed.
How did you deal with rejection?
The beginning was really rough. When you go in and you don't hear back, you get crushed a little bit. It took me maybe two years to realize that you have to leave it at the door. Once you walk out, you're excited about it, but then at the same time you have to detach yourself so that if you don't get it, it doesn't completely ruin your day. And there are still some auditions I have where that does happen to me, but those are the ones that I really, really want. When I was younger, the local high school was doing The Sound of Music and I auditioned as an elementary-schooler for one of the little kids and I didn't get it. I wrote a letter to the director asking her to give me another chance: "I want to audition again." I don't think I ever heard back from her. So what I did was I wrote myself a letter and basically ripped myself a new one. I was like, You're so stupid, you're the worst actress, you're never gonna get another role. I can't believe you didn't get this. Really, really, really hard on myself as a young kid.
How old were you?
I had to be in second or third grade. And I don't know why she did but my mom saved the letter and she let me read it two Christmases ago and I was so embarrassed. I can't believe I ever treated myself this way. But I think it helped a lot too because it made me realize the passion for this has always been there, and it will always be there, so I don't need to be that hard on myself 'cause I hopefully will continue to get opportunities to do things and the ones that are meant for me will come my way. Reading that horrible letter changed my mentality a lot.
And then you ended up working on Crazy Ex-Girlfriend.
Rachel [Bloom] and Aline's [Brosh McKenna] assistant was moving to another project and they just needed someone to fill in until they found someone. They hadn't even started shooting season one. I finished out the day and then they asked me to come back the next day. And then they asked if I wanted to stay for the season. They are so fun. I love them so much and they're so encouraging, ya know? They are so smart and they're really part of this new wave of female storytellers telling female stories from a female point of view. I learned a lot from them. It was both of their first TV shows so it was fun to see them get into everything new for the first time and see how TV works as opposed to features, especially for Aline.
And you got to appear in an episode.
The whole entire first season they were like, "We have to get you on the show, we have to get you on the show." And of course I was like, "Oh no, no, no, no, that's fine, you're already giving me a job." One day they called me into a room and they're like, "Can you sing for us?" So I sang and then I would leave. And then a couple days later they're like, "Can you come read this line for us?" And I was like, sure. And then they finally were like, "Oh we're writing this role for you, we're just checking to make sure that these things sound natural." It was so much fun. I mean it's not every day that someone can give their boss a black eye and still have a job the next day. It was a blast. I learned so much from them. I really did treasure that job. I was there until the beginning of the second season, until I left for GLOW.
Tell me how you ended up on GLOW.
I read an article on Deadline that Netflix and Jenji Kohan were doing this show GLOW, and I was like, Wow, there might be something in there for me. Normally when I see things like that that I'm interested in, I'll email my agent. I was gonna tell him to keep his eye out, but I never sent it. Life got in the way. Just never sent it.
What did you read that made you think it was right for you?
They had a picture of the original cast of GLOW and I saw how diverse it was, how many different body shapes there were, and I just thought to myself, maybe they need someone like me, you know? Especially seeing Mt. Fiji. But I forgot to send the email and then a couple days later I got the audition appointment and I was like, Wait, what? My manager was like, "Break a leg, go get 'em." I looked at the breakdown and I was really excited because they described Carmen as a gentle giant. I usually go up for bullies and mean girls or people whose size is kinda the butt of the joke or what's intimidating about them. So when I saw the word gentle I got really excited 'cause I was like, Yes, finally a nice person, a nice girl. I was excited about that. And then I was also excited because we had to prepare two scenes and a rap. They sent us a clip from the original show. Before each match, the girls would come out and do a little rap music video talking about themselves and talking about their opponents and what they were gonna do to 'em. So we had to prepare one of those. It sent me down a YouTube rabbit hole for hours. And I was like, This is insane, I have to be a part of it. So I went home and did my hardest — memorized, studied up, added all these things.
Did you have to write the rap?
No, they gave us a rap but said we can rewrite it if we want to. I rewrote mine just because it helped me memorize. I've never rapped. I have rhythm, but I don't know if I have rap rhythm. So I rewrote it and I went in the next day. And I was so excited, too, because they told us not to wear any makeup and wear comfortable clothes. I was like, Yes, my kind of audition. But then I went in and did it and I thought I did terribly.
Because you were nervous?
I was so nervous because I wanted it so bad that I think I second-guessed a lot of things and just came up with things. Jen Euston, who was our casting director, she really worked with me. So we did it quite a lot. And that threw me off too where it was like, Oh my gosh, she doesn't really like me. But then when we were done she just let the camera roll and asked me a bunch of questions about myself. That never happens, so I was like, What's going on? When I walked out I immediately called my agent. And I was like, I'm so sorry, Mike, that ship has sailed.
What were your audition scenes?
It was the scene in the pilot where Ruth [Alison Brie] pulls me aside and asks, "What's our backstory?" And then the second scene was actually being Machu Picchu in the ring, doing the whole "You stole bread from my family" part. That fake acting that I did, that voice, that's how I did it in the audition. Because I was so nervous, I hadn't realized my voice was so low. When I went home that night and was sleeping, I got a text from my agent that said to check my email. I got a callback for the next day. This was with Jenji Kohan, Tara Herrmann, our executive producer, and then our co-creators, Liz [Flahive] and Carly [Mensch]. And I walk in and Jen introduced me. She's like, "Oh, this is Britney." And for some reason I thought I'd be funny and was like, "And hope to be Carmen!" Crickets. They didn't smirk, they didn't laugh. And I was like, Off to a great start. So I felt the pressure to make everything better after that. And I think it actually helped me a lot because that awkward joke was my icebreaker. I did the audition, walked out, and this time I knew it was mine. And that is what confused me because I didn't hear anything for a month. Then they called and wanted me to come in for a stunt audition. I show up and our stunt coordinator, Shauna Duggins, and then our wrestling coordinator, Chavo Guerrero Jr., were there. Shauna was just like straight up, "You're not on our insurance. We can't have you doing anything crazy." So we did some forward rolls, I threw a couple punches, a couple kicks. I jumped off this little ledge thing. I was like, "Aarug!" And then she was like, "That was fantastic."
But in my head I was like, Do not leave this room without picking these people up. I don't know why I thought that but I was like, I was cheerleader, I can do it. I just needed to show them. So I just stood there and I was like "Shauna, jump into my arms." She didn't want to because of the insurance. I told her, "I can do it, just jump into my arms." So she ran at me and she jumped and it was easy. And she was like, "Whoa, I feel secure, you have me." But then Chavo — and I love him, we have an almost brother-and-sister relationship where we pick on each other and egg each other on — asks if I can pick him up. I said, "Let's see!" He runs and jumps into my arms. It's not as easy but I still do it. And so I drop him and they're like, "Hopefully you'll get it. We'll let the show know."
How did you feel about the fact that this would be a central part of the show?
I was excited. They were very up front. When they sent the audition, they told my agent, if your client isn't comfortable with months of training, wrestling, the aggressive physical side of it, then they shouldn't even audition. I was really excited 'cause it's something new and it saves me going to the gym. So I walked out of that and I was like, All right, I think that sealed it. If I had walked out and not picked them up, I don't know if I would've gotten the role.
What was your last day on Crazy Ex-Girlfriend like?
At our last table read, everyone stood up and clapped for me and I started crying. Rachel took a video of it. On my last day on set, the whole entire crew got me a cake and called me in and sang "She's a Jolly Good Fellow" and all this stuff. So I was very, very sad to leave that show. But I knew that I had all their support and it was a good kind of leaving.
Did you meet the cast during the wrestling training?
Yes. Kia Stevens, who plays Welfare Queen, she was our only professional wrestler. So the rest of us were coming in completely not knowing how to get into the ring. The first day, Chavo was like, "All right, get in." We had girls having to hold the ropes open so someone could go through. People would just roll under. We were like, Oh, we got it. We didn't have it. We trained for a month every day for like three to four hours a day.
But I like that we all came in not knowing anything because we pit women against each other a lot and that could have been a situation where it was like, Oh, I've been training on my own and I already know how to do a headlock. Or, I'm the best wrestler. We were all on the same level and it just became so encouraging and a safe environment to mess up or to do well. And having people cheering you on when you're in the middle of the ring, even doing like the simplest of things, was so empowering, really.
What were some of the easiest and the hardest moves for you?
Probably the easiest had to be the rolls. But funny enough, I went and did my forward roll and Shauna was like, "That's not how you do a forward roll." I was like, What? "You don't roll on your head." … I literally put my head down and just flipped over. She thought I'd be better at a barrel roll, which is basically just what it sounds like. You're just on your side and you're just rolling. And once I got that, it was so much easier. Once you get your roll, you're like, Yes.
But the hardest was more a psychological thing. It's called the headlock takedown where basically you have someone in a headlock and then you take them to the floor and flip them underneath you so you get on top of them and are holding them in a headlock. And I was like, I'm gonna crush these girls. I cannot put my full body weight on top of them, I'm going to hurt them. We usually try the moves first on Chavo so he told me to do him. I said, "I'm gonna crush you." He said, "Get over it." And we went and did it and he showed me how to do the proper technique where really you're not putting your body weight on it at all. You're supporting your weight on your elbow and forearm and pushing yourself up with your feet. So you're not really even laying on them. And once I got over that psychological hump, I could do it.
Running the ropes seems the most fun to me.
Actually, the girls and Chavo kind of poke fun on me because the first time I ran them, I think all of them thought I would be like big strides, I'm a bigger girl, pumpin' my arms. But I run like a T-rex. I was running, tink tink [with her hands held up in front of her chest]. And they were laughing hysterically. And I was like, What is happening? They're like, "Your arms! Why are you taking such tiny steps?" I was like, "'Cause that's how I run." And Chavo wanted me to take bigger strides but it was so awkward. I couldn't do it. And then Chavo and I talked about it and he thought we could use it. Carmen is still supposed to be this shy, innocent person, so it kinda feeds into her personality.
And the comedy.
Yeah, exactly. So once we got that, it was like all right, cool, I can run like a T-rex. But every time, they're like, "Your arms!"
Besides Ruth (Brie) and Debbie (Betty Gilpin), Carmen is one of the characters we get to know the best in the series. What did you think of her backstory? Did you connect with it?
I'm very honored that we got to give her a full arc or a semi-full arc. I just love Carmen. I love that people are relating to her. And I think I related to her a lot, the aspect of, this is someone who was scared to follow her dream and now that she is finally doing it, she wants to put her full force into it, and if you're not gonna support her, then she doesn't need you to be there dragging her down. But in that same respect, I don't experience the anxieties that she has. I have anxieties but it's not about the same thing she has, you know? She's got stage fright. Mostly she's not used to being the center of attention. I'm more outgoing. I think she really needed to find her own self-confidence. That's what scared her.
Did you draw on your own personal experience with anxiety for the big scene in the finale?
That scene was interesting for me to watch because the way it is in the episode is not the way it was originally scripted. It was actually scripted that she has her little panic attack at the beginning and she looked over at her dad and was like, Okay, I can do this, and then goes in the fight. And then when her legs are swept out from underneath her, she kind of gives up and then he is supposed to start chanting and she gets the courage. But I like the way that they ended up editing it. I was there shooting it and I cried when I watched it because to see him chanting for her at the top, knowing that he is giving her his full support from the very beginning, is something so touching and something that's so satisfying as an audience to be like, Yes, they're okay, like its fine now. You don't need the I'm sorry or I forgive you. The Machu chant is everything. My dad is a high-school football and basketball coach. And this is something my dad would do. If I ever went out there and was like, "I don't think I can do it," I know I could just look at him, and he'd be like, "Yeah, you can, go do it." And that really got me going when we were shooting.
What was the reaction back home in Alaska to GLOW and Britney Young being on it?
A lot of people have sent me messages and are just so sweet and so kind. And to have people say, "I always knew you were gonna do this" is so sweet and very humbling. Being in my local paper was a huge thing. I really enjoyed that.
What did your parents say when they saw it?
My whole family came down for the premiere — my parents, my brother and sister. I took them to the red carpet premiere. My dad and sister have a very specific type of humor that they like, and I felt like maybe they're not gonna like this. But they were hysterically laughing. When the show came out, they wanted to order pizza and binge it. So we just went through it. I was really, really touched by that.
I am sure you know that you share a name with a Google-able adult-film actor. Same spelling and everything. Is that creating hardships?
She sure is Google-able. It's really interesting because I've noticed I'm starting to push her down a little bit. I'm fine with it. I get it. She's working. I'm happy for her. But, like, my second uncle said he looked me up on YouTube — or my name — and a lot of inappropriate things came up. A lot of sex tapes essentially. I was like, Great, is my grandpa seeing this? I don't know who's Googling me and thinking it's me. I'm sure they're not clicking on it so they don't know that it's not me until like this blonde girl comes up and does her thing. I was really frustrated that day, but I'm seeing slowly that me, Britney Young, is pushing her stuff down the page on Google.
What does it mean to you to be on a show that's so female driven?
I love it. It's almost surreal. We have Orange Is the New Black, but I feel like I've never seen a show that is this diverse with women, but also diverse in the stories they're telling about women. A lot of times when we tell stories about women, it always is something where we have to wrap it with a nice pretty bow, and that's not real life. Or, like, talking about your periods synching, right? Nobody talks about that. The abortion scene … we have so many women's stories that I feel like I've never seen. So to be able to tell them and tell them from a truth space and not really a space that's trying to make them entertaining or trying to make them risqué is really, really good.
I love that our show celebrates bodies and is about these women being strong in any way they can be, whether it be physical or emotional or mental, you know? The reason why I was attracted to Raven-Symoné was because she looked like me, and I don't think I've ever found anyone on TV or film that has looked like me. I'm getting a lot of people saying like, Oh my gosh you look like me, we have the same body type, we have the same creases in our arms. To have people say that is so, so overwhelming and I'm grateful that they can relate, 'cause that's the exact same thing I was going through. I hope that a lot more TV can go that way. We have The Handmaid's Tale, we have Orange Is the New Black; we are telling women's stories how they should be told. So we're getting there. We still have a ways to go but it's definitely going in the right direction.
Are any offers or auditions coming up as a result of GLOW that you feel you wouldn't have gotten otherwise?
Definitely. A couple weeks ago, I had three auditions in one week. Normally, I get three auditions a month if I'm lucky, so that was a huge change. But then recently, I actually went up for a role against one of my friends who I love and adore, but I was so excited because it was a character-based part. I'm used to seeing "plus-sized, big, heavy-set" in the description. This was "bubbly, funny, charming." And she's like a size six. I told her, to go up against you means so much to me because I am now being seen for what I can do talent-wise, not what I can bring physically-wise. I was like, Yes!
And you're seeing more of that generally?
Yes. There are still the other ones, too. I'm grateful for every opportunity, and everything I've booked I've had so much fun on, so I don't want to bash on those projects, because there was nothing wrong there. But once I got Carmen, I did see where I was being pigeonholed, and I never noticed it before because I was just so grateful to be going out.
What's your ideal next role? It sounds like you want to sing and dance, too.
I would love to be in a musical. Or even if they're bringing Step Up back, I'd be down. But my ideal role has almost already been, well, it has been taken. Do you know the movie Spy with Melissa McCarthy?
Yes.
I love her character in that movie so much because I love that, again, it's like she's a plus-sized woman in this genre of action and action comedy — nobody expects her to be the lead, and yet here she is completely handling her own, doing her own stunts, crushing everything. And she's funny, and her weight is never brought up. It's more that she can't be a spy because she's never been in the field, not that she is a plus-sized woman. She has a love interest, there's romance in it — that would be my ideal part. So if they're making a Spy II, Paul Feig, get at me.
This interview has been edited and condensed.