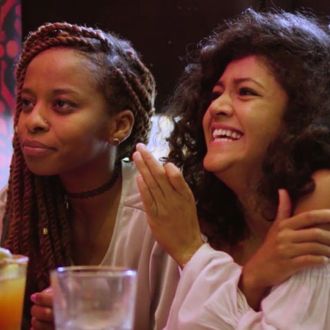 This is a good sign.
Photo: Brown Girls
HBO's investment in series created for and by people of color is already paying off: Brown Girls, the web series recently signed to a development deal to adapt it for HBO, has been nominated for its first Emmy. On Thursday, the show and its creators, writer Fatimah Asghar and director Samantha Bailey, were nominated for Outstanding Short Form Comedy or Drama Series. Even more surprising: It's up against online-only spinoffs from major network shows Broad City, Fear the Walking Dead, Better Call Saul, and Marvel's Agents of S.H.I.E.LD. In the category's introduction last year, Childrens Hospital beat out the same FTWD and Broad City web series, one for UnREAL, and YouTube show Her Story.
Brown Girls centers around two Chicago 20-somethings — Leila, a gay Muslim South Asian writer and Patricia, a black singer — and the ways that their cultural backgrounds entangle with their work and love lives. It debuted its seven-episode first season in February on OpenTV and was picked up by HBO in June. HBO leads the 2017 Emmy noms with over 100, but its only black-led show, Issa Rae's Insecure (which also started out as a web series), was completely shut out. If it's any consolation, HBO can go in confident Emmy voters are at least already paying attention to Brown Girls.