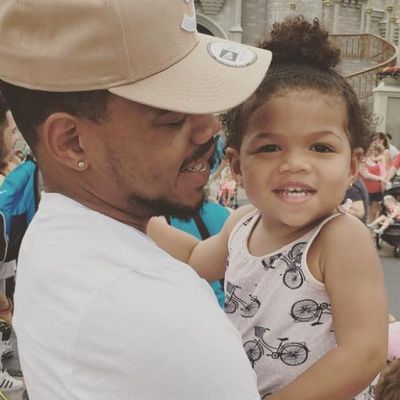 Say it with us now:
Awwww
.
Photo: chancetherapper/Instagram
As far as dads of Instagram go, Chance the Rapper is top notch. Chancelor Bennett became a young father to baby girl Kensli in 2015, and though he was protective at first about sharing her with the world (like any new dad), he has since surrendered to the cuteness and must now share her every smile, squint, and childhood first daily. Kensli is without a doubt a daddy's girl (she's his twin!) and her father's Instagram is a shrine to her. In honor of Kensli's first time going potty on the potty — a toilet-training saga obviously well-documented on his 'gram — let's give it up for Chance the Father out-daddying everyone on social media in just six months.
It all began on September 21, 2015, when Chance the Rapper announced to the world the birth of his new bundle of joy and asked for some privacy, making only short mention of Kensli a couple months later when she scratched his face before his SNL debut. What are kids for!
Kensli's little, tiny baby hand made an appearance on Chance's Instagram on Christmas Eve 2015 — her Insta debut, though technically the little nugget popped up in an earlier picture from inside her mommy's belly. Yes, Kensli has been Insta famous since the womb.
All privacy went out the window over a year later, on New Year's Eve 2016, when Chance introduced Kensli to the world because just look at her! She's wearing the baby edition of the lion onesie that Chance rocked in his Kit Kat commercial months earlier. Kensli is Chance's very own Simba! (Or should we say Kiara; shout out to Lion King 2.)
Since that blessed day, Chance's Instagram has become a Kensli scrapbook where some of the best moments from her nearly 2 years of life have been curated for maximum adorableness. Here's Kensli in a portrait with her extended family, the Obamas.
Look, it's Kensli's first trip to Disney World.
COME ON.
But as any professional daddy Instagrammer knows, the real gems are the candid ones and the cutest moments are best captured in video. And oh my gosh, Chance has a knack for narrating Kensli — who as a toddler cannot yet speak intelligibly for herself (just wait!) — and her most endearing filmed antics. Presenting, Grandma Kens:
Chance even makes the trials and tribulations of being a baby look riveting. Here's young Kensli already mastering how to be a strong independent woman who can eat and go pee-pee in the potty like a big girl all by herself while also doing some light reading on aerospace engineering.
And if it weren't for Chance's dad humblebrags, how would we ever know that Kensli is on her way to being Kensli the Superstar?
Chance, of course, is not a regular dad. He's a cool dad. And sometimes that means he has to go on tour and be separated from Kensli for extended periods. It's rough and the mood on Chance's Instagram during these times gets grim. But, then, a ray of sunshine: They reunite! At which point Chance's Instagram (especially his stories) turns into a giant ball of love and, oh wow, who's chopping onions?
Would it surprise you to learn Chance recorded his own version of the ABCs to teach his daughter the alphabet? Then you haven't heard his Arthur cover.
Here's to hoping Kensli will always be Chance's #wcw and the only girl in his life, and may he never dare put his Instagram on private.