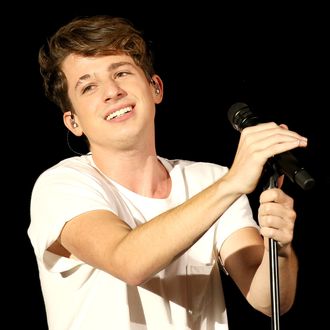 Photo: Michael Tran/Getty Images
If you aren't familiar with the poignant ballad "See You Again" from the Furious 7 soundtrack, you're in the minority here. The tune, which served as a tribute to the late Fast and Furious star Paul Walker, is now the most-watched video on YouTube as of earlier this week. (Suck it, "Gangnam Style"!) Then-up-and-comer Charlie Puth co-wrote and co-produced "See You Again," with Wiz Khalifa performing the lead vocals; and although Puth ended up being the featured vocals on the song, as well as a major presence in the music video, it always wasn't the case. "I don't know if a lot of people know this, I wasn't supposed to be in the video," Puth explained to Billboard. "I wasn't supposed to be on the song; I was only supposed to be a writer on the song. I was a brand new artist, I wasn't cool enough to be part of the franchise yet, I wasn't big enough." Puth was so determined to be on the tune in any capacity that he turned into a tough negotiator:
I'll never forget I ended up calling [the executives] from around this big conference table on the phone, and they were explaining the reasons why it was going to be sung by this artist and blah, blah blah, I'm not going to name any names, but … I said, 'That's great. Your movie comes out in a week and I'm not gonna give you the song.' And I hung up the phone and when I said that miraculously I was in the music video.
The rest, as we know, is history, and Puth doesn't hold "any grudges" for how it all went down. Maybe we'll even see him again in Furious 9.