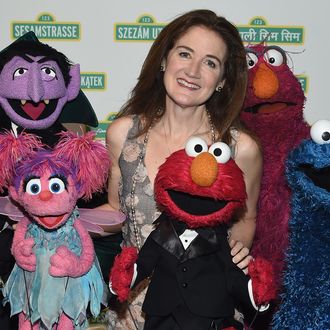 Cheryl Henson.
Photo: Dimitrios Kambouris/Getty Images
Cheryl Henson, a Jim Henson Co. board member and daughter of the Muppets' creator, is weighing in on the recent controversy surrounding the beloved children's characters. After Disney fired Steve Whitmire, the longtime voice and string-puller of Kermit the Frog, there's been plenty of finger-pointing about what went wrong. While Whitmire, who voiced the amphibian since Jim Henson died in 1990, responded with a sad open letter, Disney claimed it had the support of the Henson family in firing him, a fact that Cheryl Henson confirmed in a Facebook post. She also gave some particularly biting criticism of his portrayal of the iconic character: "Steve's performance of Kermit has strayed far away from my father's good hearted, compassionate leader of the muppets," Henson wrote. "Steve performed Kermit as a bitter, angry, depressed victim."
Henson also claimed that Whitmire's account of what happened was "ridiculously self serving," and said it was her brother Brian who asked Whitmire to take over the part and not her father, as Whitmire has previously claimed. "Worst of all," she added, "in the past few years he has not been funny or fun." Guess this means Frank Oz wasn't the only member of the Muppet family to be disappointed in the ABC not-for-kids prime-time sitcom.
Read Henson's full post here.