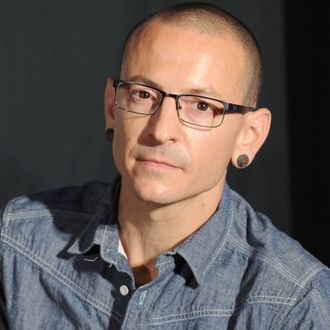 Chester Bennington.
Photo: Gregg DeGuire/WireImage
Chester Bennington, the lead singer of Linkin Park, has died at age 41, TMZ reports. Bennington hanged himself in an apparent suicide, law enforcement sources told TMZ, and his body was reportedly found in a home in Palos Verdes Estates in Los Angeles Thursday morning.
Bennington was born in Phoenix in 1976, and joined Linkin Park as the band's lead singer in 1999. The group was a key figure in rock music, releasing hits like "Faint," "In the End," and "Crawling." The band's debut album Hybrid Theory became the best-selling album of the '00s. Linkin Park memorably collaborated with Jay-Z on Collision Course, an EP released in 2004. Over the course of his career Bennington was open about his history with drug and alcohol addiction. He was also close to Soundgarden singer Chris Cornell, who died by suicide in May. Bennington is survived by his wife Talinda, and six children from two marriages.