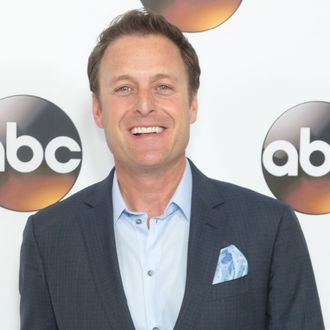 Chris Harrison.
Photo: Greg Doherty/Getty Images
The Bachelor in Paradise beat goes on. In a pair of new interviews, Bachelor-empire host Chris Harrison talks about what to expect from the upcoming season, mistakes that were made while filming BIP, and mistakes that weren't made. As far as how the recent scandal will affect Paradise going forward, Harrison told The Hollywood Reporter, "We're going to talk about rules and talk about certain things and have a dialogue," but that viewers won't notice "major changes" on the show. (After all, some of the safety measures put in place — including supposedly requiring contestants to get advanced approval from producers to have sex and having their bags checked for drugs prior to arrival — will likely happen off camera.) He also stood by the program's policy regarding alcohol, saying, "That's a big misconception of the show — that we push it, and that we need it and we want it. But that really doesn't help us. Someone being sloppy drunk and being out of it does not give us good television."
As far as us gleaning more details about what transpired between the two contestants, DeMario Jackson and Corinne Olympios, that caused a temporary shutdown of production on set, Harrison urged Bachelor Nation to be patient, and denied the existence of any bombshells. (To recap: We know there was a sexual encounter between the contestants, and that it involved alcohol, but both the show's internal investigation and Olympios's lawyer's investigation concluded without declaring any wrongdoing, despite early reports that the encounter may not have been consensual; neither Jackson nor Olympios will return to BIP save for the reunion special.)
"We've really learned from our mistakes, but there really weren't any major mistakes made," Harrison said. He also told Entertainment Tonight that "this was not a black-and-white, cut-and-dry issue," and that there are "a lot of layers to it." He continued, "I need people to step back a little bit, wait and watch. All will be explained. Trust me. Have I left you guys hanging before in 16 years? No."
But will we hear again from Jackson and Olympios directly? The host said yes, teasing that he intends to have a sit-down with the two of them beyond what will be featured in the Paradise reunion special. And don't assume that a supposed sit-down will be a predictable discussion where Jackson and Olympios give canned, ABC-approved answers about what went down in Mexico: According to Harrison, during Jackson's recent appearance on the "Men Tell All" episode of The Bachelorette, which already taped but airs next Monday, he was taken aback by "bad choices" Jackson made, and said he thought he would have had "a better moment than we had." Just like ABC execs probably want, you'll have to tune in and see what happens next.