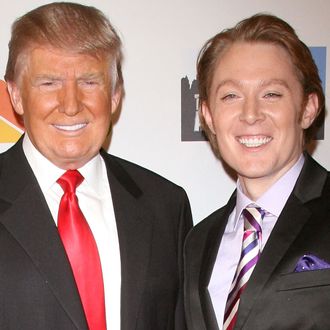 Photo: Jim Spellman/WireImage
Although Donald Trump uttered the infamous Apprentice catchphrase "You're fired," the president-to-be didn't actually decide who was let go on the NBC show, at least according to onetime Celebrity Apprentice contestant and American Idol runner-up Clay Aiken. In an interview with Domecast, a podcast from North Carolina's News & Observer newspaper, Aiken dished on what went on behind the scenes. His takeaway? Donald Trump was only a puppet, and the producers called the shots. "Trump didn't decide who got fired on Apprentice, I mean, NBC made those decisions," Aiken said, adding that the president wasn't the businessman he was perceived to be on TV.
Aiken says Trump was fed lines and notes by producers through a dummy phone. "There used to be a little thing right on his desk that looked like a phone — he pretended it was a phone — but it was actually a teleprompter where the producers were sending him notes," said Aiken, who was a contestant on the show in 2012. "He didn't know that people were getting in fights during the week while we were doing these tasks, the producers did. And they'd send him notes and he'd say, 'Oh you two didn't get along.'" Vulture has reached out to MGM, which owns a majority stake in Mark Burnett Productions, which owns the franchise, and we'll update this post if we hear back.