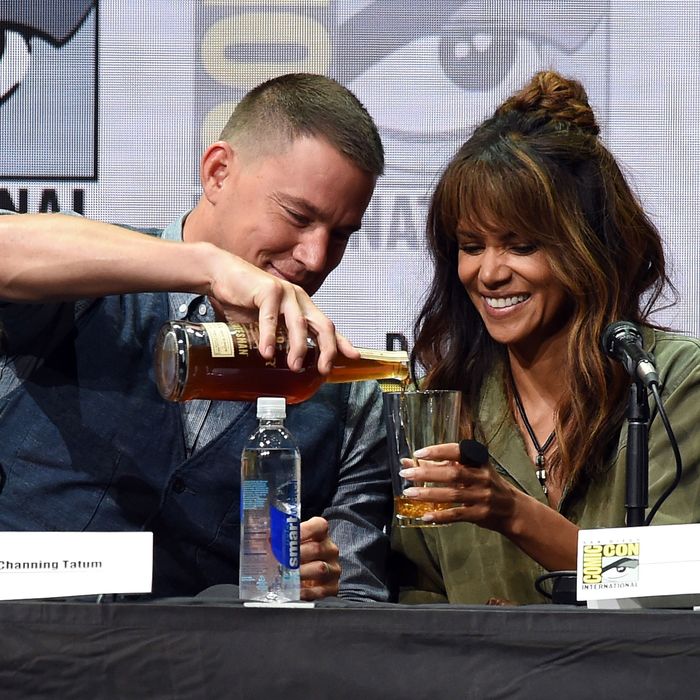 Channing Tatum and Halle Berry at Comic-Con.
Photo: Kevin Winter/Getty Images
There were a few surprises at the 20th Century Fox panel today at Comic-Con, none bigger than the studio's decision to ignore its biggest upcoming superhero properties, Deadpool 2, X-Men: Supernova, and X-Men: New Mutants in favor of a panel dedicated solely to the sequel Kingsman: The Golden Circle. Though the original Kingsman was a big hit, its sequel likely wasn't the number-one thing that hopeful fans had waited in line for hours to see. Would they go home disappointed, or could the Fox panel still deliver?
I'm happy to report that Kingsman proved up to the task, owing in part to three peppy clips that prove this irreverent spy franchise hasn't missed a step. Even better was the increasingly tipsy cast chemistry on display at the panel. Original stars Taron Egerton and Colin Firth got on well with new recruits Channing Tatum and Halle Berry, with Egerton liberally praising his bankable male co-star. "I am nothing in terms of strength compared to one Channing Tatum," he said. "All I can say is, don't get in a fight with him."
"Well some of us might enjoy the experience," shot back moderator Jonathan Ross. He turned to Tatum: "Were you as impressed by Taron's strength as he clearly was overawed by yours?"
"No," Tatum deadpanned. "He's clearly talented … maybe not in the strength area."
In the new Kingsman film, Egerton's British spy is forced by an attack on his organization to flee to the United States, where he finds an American version of the Kingsmen — the Statesmen, staffed by Tatum, Berry, and Jeff Bridges — who keep their headquarters hidden in a whiskey distillery. Owing to their drink of choice, Ross uncorked some whiskey for Tatum to pour for the other actors at the panel. It was not yet noon in San Diego, but as Ross noted, at least it was evening in the United Kingdom.
Bridges, Tatum, and co-star Pedro Pascal all managed to hold their liquor well, but it was Berry who seized the moment. She had already proved charmingly loopy on the panel — about her Kingsman character, named Ginger Ale, she said, "She's a mixer, I'm mixed — that's why they chose me" — but when asked by a fan whether Kingsman could beat the James Bond franchise in a battle of the Brits, Berry chose to abstain, having graced both series. Tatum suggested that she drink instead.
Half a pint was poured, far more than the shot glasses the men had used. "Why do I have this much and they have that much?" she asked.
"Chug, chug, chug," replied the audience.
"Oh, I can, though," said Berry. "Would you like to see that?"
You can watch Berry down her drink below. She basically stared into space for the rest of the panel, immensely drunk, but it was worth it.