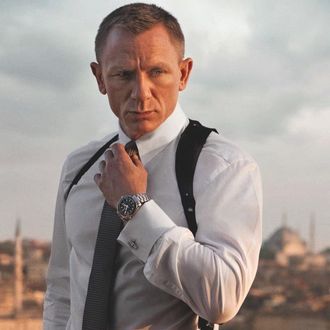 Daniel Craig as James Bond.
Photo: MGM/Eon Productions
Remember when Daniel Craig said he'd rather "slash" his "wrists" than play James Bond again? It's possible, if British tabloid The Daily Mirror is to be believed, that the actor may have been exaggerating just a little. Anonymous sources told the tabloid that Craig is now widely expected to sign onto his fifth Bond movie, thus dashing the hopes of Idris Elba fans everywhere, and that there's hope that he'll bring Skyfall theme singer Adele along with him. "Craig and Adele together are the winning team, the ultimate choice, the money spinners," one source told Mirror. "It's taken time but Daniel has come round and the strong [consensus] in the Bond offices is that Mr. Craig is 007 again. As for Adele, she's more of an unknown quantity but loved being part of Bond, so the signs are positive." What could possibly be behind this sudden, dramatic change of heart for Craig? Perhaps we should just take him at his word.