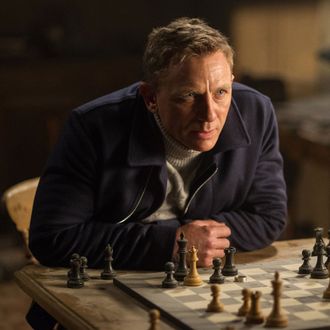 He's not done yet. Probably.
Photo: Columbia Pictures
Pain him as it might, Daniel Craig will be your James Bond once again. Two sources close to the situation tell the New York Times that Craig's return to the Bond franchise for a fifth time is a "done deal." He'll reportedly play 007 in the just-announced 25th movie in the series set for November 8, 2019. Craig previously cast serious doubt on ever revisiting the role even if his life depended on it, but then later clarified that he doesn't totally hate playing Bond and yeah, sure, he'd probably do it again. It's just exhausting being Bond. (Somewhere Idris Elba sits well-rested and ready.) It's unclear if Spectre and Skyfall director Sam Mendes will also return to direct; Eon Productions and MGM have said more details will trickle out "at a later date." In the meantime, keep all sharp objects away from Craig!