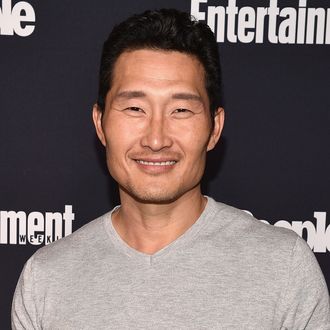 Kim.
Photo: Bryan Bedder/Getty Images for Entertainment W
Following reports that Hawaii Five-0 is losing its two Asian leads over a salary dispute, Daniel Dae Kim has confirmed his departure from the show in a note to fans. "I will not be returning to Hawaii Five-0 when production starts next week. Though I made myself available to come back, CBS and I weren't able to agree to terms on a new contract, so I made the difficult choice not to continue," he writes. Though Kim doesn't specify that his salary was the reason for his exit (he and Grace Park were reportedly earning 10 percent less than their white co-stars for the same number of episodes), he does allude to the fight for equal pay:
"As an Asian American actor, I know first-hand how difficult it is to find opportunities at all, let alone play a well developed, three dimensional character like Chin Ho … I'll end by saying that though transitions can be difficult, I encourage us all to look beyond the disappointment of this moment to the bigger picture. The path to equality is rarely easy. But I hope you can be excited for the future. I am."
Kim says he has "new acting projects on the horizon" and his production company 3AD will air its first show, The Good Doctor, on ABC this fall. CBS previously confirmed that Grace Park is also leaving the show.