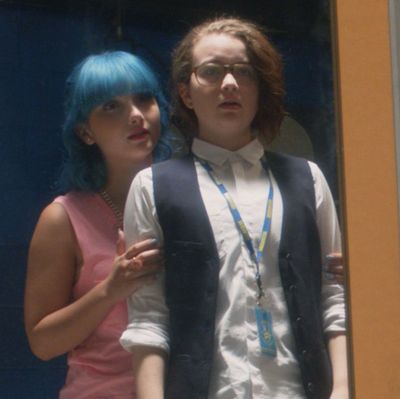 Lola Pancini (Amanda Arcuci) and Yael Baron (Jamie Bloch).
Photo: DHX Media/Netflix
In the first three seasons of Degrassi: Next Class, Netflix's iteration of the long-running Canadian teen drama, Yael Baron maintained a complicated, increasingly demoralizing relationship to gender. When debates concerning stereotypes about women would arise among their all-male group of friends, Yael would chalk their nonconformity up to feminism. But by season four, which debuted last Friday, Yael no longer identifies as female, or any gender at all. At the season's emotional midpoint, "#FactsOnly," Yael realizes that they're gender nonbinary, making them Degrassi's first-ever non-cis character. (The show references "genderqueer" and "gender-fluid," but does not specify a label for Yael on the spectrum other than the pronouns "they/them.")
In 2010, Degrassi, which has held a strong record of queer representation dating back to its first generation, introduced its first transgender character in Adam Torres, pushing the series further toward visibility for LGBTQ groups that are traditionally scarce on television. Now, Degrassi's history of adapting to new norms has once again brought the series into relatively uncharted territory: the delicate process of Yael's discovery of their gender identity and coming out to their friends and boyfriend, starting with the decision to have Yael be the character to tell this story. However, unlike Billions, which stars nonbinary actor Asia Kate Dillon as TV's first nonbinary character, Yael is played by cisgender actress Jamie Bloch. (Torres was also played by a cisgender actress.)
According to Degrassi's co-executive producer Matt Huether, the casting was unintentional because the idea for Yael to come out as gender-fluid developed in future seasons, after Bloch had already been playing the role. "Yael starts out the series as cisgender presenting. To be honest, for the first couple of seasons we knew where Yael was going to sit socially and that Yael would be uncomfortable with [their] own body and self, but we didn't know what the endpoint was yet," Huether tells Vulture. "So [casting a nonbinary actor] wasn't on the table yet. If we did it again, we might do it differently. But we just weren't equipped to do it then." It wasn't until the producers visited a Toronto high school's queer-straight alliance while writing the show's third season that they were inspired to have Yael turn inward after years of struggling with gender conformity and identify as genderqueer.
"Hearing them talk about their experiences was something we knew we hadn't seen represented on TV and that matters," Huether says. "It's exciting to put a character out there who can help be part of someone's discovery process." It also put pressure on Bloch to do justice to a community she isn't part of, which meant extensive online research and talking directly to genderqueer teens. "I really tried to immerse myself in this world because, obviously, as a straight female, it was not something that I was exposed to yet," Bloch tells Vulture. "I know there are still issues that some people are having in terms of me not being a gender-fluid actor, which I was nervous about. But it was important to me to know that that representation is out there with Yael as a character."
After several arcs that saw Yael dismissing gender as a patriarchal tool for misogyny and sexism, season four follows their deeper personal gender crisis. They let their body hair grow out, question why they can't be allowed in a men's bathroom, and most visibly, experiment with wearing a chest binder after rejecting the physical presence of their breasts. For Bloch, who wore a binder under her clothing in every episode after Yael first tried one on, the start of Yael's outward transformation helped to bolster her performance. "It became part of my wardrobe and it was difficult to get used to," she says. "I'm larger chested, so it was interesting to see how it changed my body, the way I felt, and the way I presented myself. It helped me embody what Yael was feeling a little bit more because it was a big change personally for me." Yael's transition ultimately hinges on their coming out after being educated on the terminology from a cis friend who follows a genderqueer YouTuber, and then figuring out how best to translate this new identity through their own appearance. The journey culminates in a quietly powerful moment where Yael removes the bright red wig that's been a staple of their character since Bloch wore it in the first season to hide a haircut from another project. Looking in the mirror, Yael sees themself for the first time as they've always wished to be seen.
"We weren't totally sure how that scene would land until we saw the cut and now the response from people online," Huether says. Bloch has since received messages from young people saying their identity feels "validated," and appreciates fans who hold her accountable when she accidentally misuses Yael's pronouns outside the show. "I don't fully understand the repercussions that can come with not using the right pronouns and I'm still personally learning how to address that and correct myself," she says. Huether won't reveal whether Degrassi will bridge Yael's gender discovery into next season, but he hints that the writers room "knows how they want this story to progress" and is interested in exploring the strained dynamic between Yael and their boyfriend Hunter. As the story unfolds, the mere existence of a young character like Yael on U.S. and Canadian TV will continue to break new ground. "It feels good to know that Yael can have such an impact on people and hopefully will for years to come," Bloch said. "I'm grateful to be the face behind that."