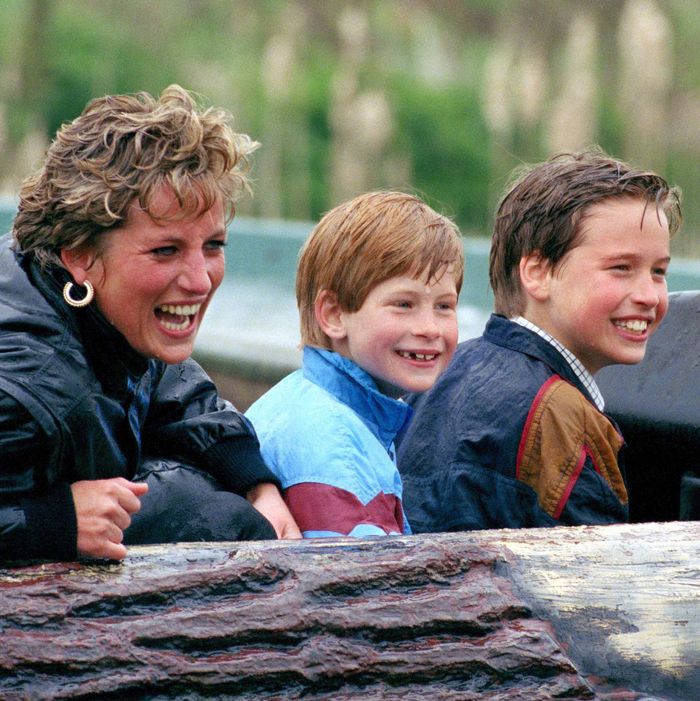 L-R: Diana, Harry, William
Photo: HBO
Midway through Diana, Our Mother: Her Life and Legacy — an hour-long documentary tribute to the late Princess Diana that's shaped by the perspectives of her two sons — William, now known formally as the Duke of Cambridge, speaks about how intrusive the paparazzi became in his mother's life.
"One lesson I've learned is, you never let them in too far because it's very difficult to get them back out again," he says of the media. "You've got to maintain a barrier and a boundary."
Barriers and boundaries are established and only partially torn down in this laudatory but nevertheless moving film about one of the most famous and overanalyzed women to ever breathe oxygen. The most fascinating parts of Diana, Our Mother, which airs Monday on the U.K.'s iTV as well as on HBO here in the States, aren't necessarily the stories about the late Princess of Wales's relationship with her two boys nor her commitment to social issues, including homelessness and the AIDS crisis. It's more illuminating to hear and watch William, now 35 with two children of his own, and Harry, 32, pontificate so extensively and publicly about their mom, who died suddenly 20 years ago this summer in a car accident, an event set to be rehashed to an even greater extent closer to the anniversary of the tragedy next month. (TLC, ABC, PBS, and the Smithsonian Channel all have Diana-focused specials scheduled to air in the coming weeks.)
"This is the first time that the two of us have ever spoken about her as a mother," Harry notes. That gives Diana, Our Mother greater weight than some of the other upcoming televised projects as well as a sense of focus: This hour of television is as much about the two men Diana gave birth to and raised as it is about her. It's also about grieving for a lost parent and how, decades later, children can still struggle to navigate the unpredictable, tremulous process.
During a portion of the documentary that has already generated some press coverage — the princes' recollections of the last conversation they had with their mother before she died — Harry says he has regretted "for the rest of my life how short that phone call was." He also acknowledges that he has only cried twice over the loss of his mom, once when she was laid to rest and one other time since. "There's a lot of grief that still needs to be let out," he says. Harry never gets teary-eyed. His voice never breaks. But he acknowledges, as he has in recent interviews, that he's still got some work to do to come to terms with the gap Diana's departure left in his life.
William, the older brother and the one that has more obviously absorbed that very royal ability to maintain dignity at all times, does not talk about his own particular stages in the grieving process. When asked whether he recalls what his mother said to him the last time they spoke, he says, "Yes, I do." Pointedly, he offers no details about the words they exchanged. While he speaks lovingly of her and offers heartfelt, sometimes funny anecdotes about their relationship, you can sense when William talks that his brain is reminding him: "You've got to maintain a barrier and a boundary."
William and Harry don't address the moment they learned of their mother's death. Diana, Our Mother also avoids all the usual gossipy anecdotes that tend to get dredged up again whenever the English Rose's life is picked apart. Dodi Fayed, her boyfriend who died in that 1997 accident with Diana, is never mentioned. Even Prince Charles only comes up in conversation tangentially.
The documentary's purpose, really, is not to highlight Diana's image, but how it evolved from the thing she did to endear her to the British public, people around the world, and, most importantly, her two sons, who have followed her example by remaining involved in many of the charities to which she introduced them. During the film, we see William visit a homeless shelter that Diana frequently visited when he was a boy, and meet with members of a bereavement charity that she helped found, while Harry is followed as he spearheads a World AIDS Day event, with some help from Rihanna.
Like Diana, these siblings understand that cameras can be an intrusion, but also a tool to raise awareness. Like Diana, they radiate genuineness, as well as a desire to keep certain things to themselves. They are, through and through, their mother's sons. That's not surprising. But for those who mourned when Diana died so suddenly on a Sunday night nearly 20 Augusts ago, it is undeniably touching to have that confirmed.