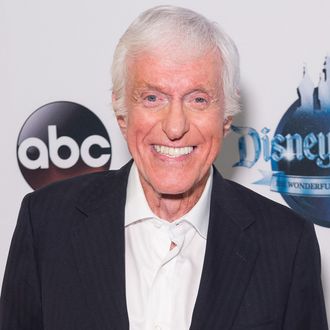 Photo: Richard Harbaugh/ABC via Getty Images
On a scale of Renée Zellweger in Bridget Jones's Diary to Don Cheadle in Ocean's Eleven, how bad was Dick Van Dyke's fake British accent in Mary Poppins? The answer is only up to you or noted Cockney hero Michael Caine, but that isn't stopping Van Dyke from making amends with his interesting Cockney twang after all of these years, anyway. "I appreciate this opportunity to apologize to the members of BAFTA for inflicting on them the most atrocious Cockney accent in the history of cinema," the sprightly nonagenarian joked while reacting to news that he was chosen to receive the Britannia award for television excellence.* "I ruined it for everybody." Frankly, he was too busy "singing and dancing" to be remotely concerned about it: "I've always wondered — everyone in that movie was British! Not one of them said, 'That accent isn't right, Dick. Why don't you work on it?'" All's well that ends well — he'll be back and steppin' in time in Mary Poppins Returns next year alongside Emily Blunt.
* This story initially misstated that Van Dyke was speaking at the Britannia awards. He was instead reacting to the news of his award.