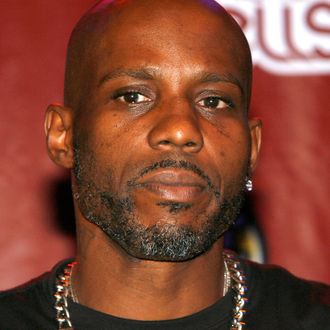 Photo: Mike Lawrie/Getty Images
DMX has run afoul of the law again. According to the Southern District of New York's branch of the U.S. Attorney's Office, Earl Simmons has surrendered himself to law enforcement for "engaging in a multi-year scheme to conceal millions of dollars of income from the IRS and to avoid paying $1.7 million of tax liabilities." He will be presented in federal court tomorrow in Manhattan. Acting U.S. Attorney Joon H. Kim had this to say about DMX's arrest:
"For years, Earl Simmons, the recording artist and performer known as DMX, made millions from his chart-topping songs, concert performances and television shows. But while raking in millions from his songs, including his 2003 hit 'X Gon' Give it to Ya,' DMX didn't give any of it to the IRS. Far from it, DMX allegedly went out of his way to evade taxes, including by avoiding personal bank accounts, setting up accounts in other's names and paying personal expenses largely in cash. He even allegedly refused to tape the television show 'Celebrity Couples Therapy' until a properly issued check he was issued was reissued without withholding any taxes. Celebrity rapper or not, all Americans must pay their taxes, and together with our partners at the IRS, we will pursue those who deliberately and criminally evade this basic obligation of citizenship."
According to the release from the SDNY's office, DMX earned more than $2.3 million between 2010 and 2015, but filed no personal income tax during that span. To avoid taxes, the rapper "orchestrated a scheme" that included "maintaining a cash lifestyle, avoiding the use of a personal bank account, and using the bank accounts of nominees, including his business managers, to pay personal expenses." He also filed a false affidavit in U.S. Bankruptcy Court lying about his earnings. For his actions, DMX faces 14 counts: "one count of corruptly endeavoring to obstruct and impede the due administration of Internal Revenue Laws, one count of evasion of payment of income taxes, six counts of evasion of assessment of income tax liability, and six counts of failure to file a U.S. individual income tax return." The maximum combined sentencing for all these counts would be more than 40 years in prison, but that will be determined by a federal court judge.