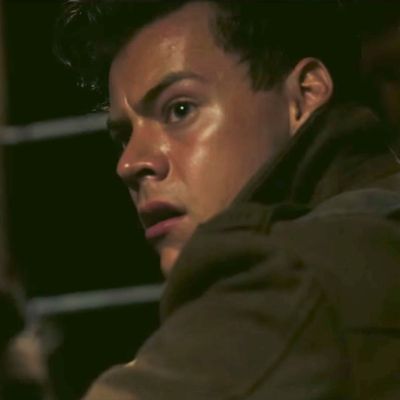 And that's how it works, that's how you escape the Germans.
Photo: Warner Bros./YouTube
Warning: This post contains spoilers for Dunkirk.
Christopher Nolan might not have known that Harry Styles was a celebrity, but it's a fair guess that most other viewers of Dunkirk will. The former One Direction singer is one of the few recognizable faces in the cast, which is otherwise stacked with unknowns. His presence makes the World War II flick one of summer's strangest two-quadrant pictures: Has there ever before been a blockbuster pitched at both adult men and young women?
Still, the movie's marketing has worked hard to obscure his presence, choosing instead to focus on 20-year-old Fionn Whitehead, the closest thing to a lead in the film's huge ensemble. If you're curious what Styles gets up to, here's a quick, spoiler-light guide.
As you may know, Dunkirk is cut up into three parts: the soldiers on the beaches trying desperately to get back to England; the civilians who come over on small boats to ferry them home; and the RAF pilots trying to keep everyone from getting killed by German bombers. Harry plays one of the soldiers, but you've got to wait about 30 minutes for him to show up. First, we follow Whitehead and Aneurin Barnard, the Liam Payne and Zayn Malik of the British Expeditionary Force, as they try to cut the line onto one of the ships leaving the beach. They don't make it on, but the boat gets bombed and sinks anyway, so our heroes dip themselves in the ocean and join a group of survivors — and that's when the man who inspired "I Knew You Were Trouble" makes his big appearance. Soaking wet, just like God intended.
Styles plays a soldier named Alex, though I can't seem to recall anyone calling him by that name. In fact, I can't remember any of the soldiers in Dunkirk calling anyone by their names, or saying much of anything; Nolan's more interested in creating a Sisyphean ordeal for the boys than giving them any cracking dialogue. They get on another boat, but then that one gets torpedoed, so they have to go back to shore, then they get on a third boat but that one gets machine-gunned, and so on. Harrowing stuff, but not there's not a whole lot of room for the kind of dry wit fans have come to expect from Styles.
Despite him showing up late, I'd venture that Styles might have the most lines in the entire movie. (Or at least, the most intelligible lines; Tom Hardy's dashing RAF pilot says a lot, but his face is covered per tradition.) Nobody in Dunkirk is playing a character in the traditional sense — we know basically nothing about any of them, besides their current predicament — but Styles is the one driving the action during the film's most gripping scene, and he has a good emotional moment near the end, when he's proven wrong about something very important.
And as One Direction fans know, the guy's just got a spark to him, which helps cut through the constant despair of the beach scenes a bit. It's too early to say whether he's an Elvis or a John Lennon, but on the off chance the solo career doesn't go as planned, he'll likely always have a place in the Christopher Nolan repertory players.
Also, if you only clicked this post trying to find out whether or not Harry Styles dies, I'll put the answer below.
.
.
.
.
He survives! Like pretty much every main character in Dunkirk, Styles has a strong set of plot armor, allowing him to survive sinking ships, hails of gunfire, and multiple explosions. But of course, we should have seen that coming — after surviving 1989, 1940 was a cakewalk.