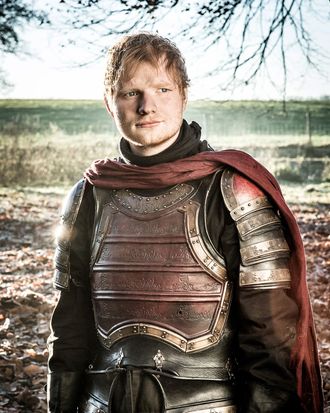 Ed Sheeran in
Game of Thrones
.
Photo: HBO
In Sunday night's Game of Thrones premiere, Arya Stark took some time out from brutally murdering those who harmed her family to indulge in a slightly more innocent pursuit: hanging with Ed Sheeran! (Actress Maisie Williams is a real-life fan.) As members of bands like Snow Patrol, Sigur Ros, and Coldplay had before him, Sheeran stopped by Westeros to make a GOT cameo. (His acting skills weren't taxed too much, as This Is England's Thomas Turgoose got the bulk of the scene's lines.)
Still, Sheeran got a bit more face time than the show's previous musical cameos, playing one crunchy member of a Lannister platoon that just wanted to chill out, eat a squirrel, sing a few songs, and keep things in the Riverlands nice and peaceful. (They're filling the void left by the Brotherhood Without Banners, the lovable hippie band who was previously keeping the peace in the Riverlands but are now heading north, leaving room for a suspiciously similar band to pop up — kind of like when Radiohead went electronic and opened up space for Coldplay.)
As is tradition when musicians stop by the GOT set, Sheeran gets a few seconds to show off his singing voice, debuting a little ditty that came Arya-approved. Though his character told her it was "a new one," the song he was singing, unofficially titled "Hands of Gold," is taken directly from the Song of Ice and Fire books. (It's no "Shape of You," but what is?) It popped up in A Storm of Swords, thanks to a bard named Symon Silver Tongue, one of the few people to know that Tyrion was sleeping with Shae. Fancying himself a medieval Carly Simon, Symon composed a thinly veiled song about the affair — "For hands of gold are always cold, but a woman's hands are warm," goes the chorus — and threatened to sing it for Cersei unless Tyrion let him sing at Joffrey's wedding. Tyrion decided instead to have Bronn kill the poor bard and have him thrown in a pot of stew. Not the most pivotal of ASOIAF plotlines, but still, nice to have a reminder anyway. And nice for Arya, to have a few minutes of screen time that were occupied not by murder, but by youthful camaraderie, good cheer, and a few dozen covered tattoos.