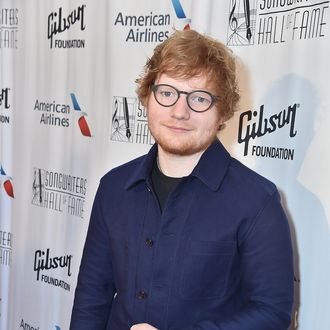 Sheeran.
Photo: Theo Wargo/Getty Images for Songwriters Hall Of Fame
Twitter trolls have claimed another one. On Monday, Ed Sheeran told The Sun that he's done with the social-media platform:
I've actually come off Twitter completely. I can't read it. I go on it and there's nothing but people saying mean things. Twitter's a platform for that. One comment ruins your day. But that's why I've come off it. The head-f*** for me has been trying to work out why people dislike me so much.
Though Sheeran isn't quite completely off Twitter. His linked Instagram account will still send tweets, and he plans on reading public feedback on his favorite websites. (Like, Vulture?!)
But he won't be generating tweets himself. "I have people like my dad who will have a conversation with me," he said. "I don't have to have someone calling me a whatever."