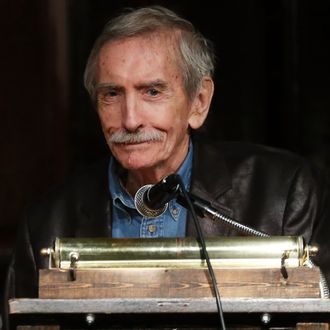 Edward Albee at the 2012 Players Foundation Hall of Fame Induction.
Photo: Neilson Barnard/Getty Images
What do Franz Kafka, Adam Yauch, and Edward Albee have in common? For one thing, the trio now officially shares the adamant wish that any unfinished work be destroyed after their death. The New York Times has obtained a critical section of the will of Albee, who died last September, and is reporting that the late, great playwright — a self-described "control freak" — has instructed friends Arnold Toren and William Katz to completely erase any trace of his work beyond what's already been published and produced. "I hereby direct my executors to destroy such incomplete manuscripts … as soon as is practicable after my death," the will reads, "and … to treat the materials herein directed to be destroyed as strictly confidential and to ensure that such materials are not copied, made available for scholarly or critical review, or made public in any way." In short, that's Albee being as explicit as possible: Get the paper shredder ready.
His request might unfortunately even include his unfinished play about a middle-aged woman trying to become pregnant (called Laying an Egg), which was near completion by Albee's own admission and was twice scheduled to premiere at Signature Theater in New York. (Albee canceled both times.) It now looks like it may never see the light of day, unless a potentially complicating provision — executors have the final say on what's "incomplete" — halts the process. But we're a long way from knowing whether this technicality can change things, and as we've been learning recently, the stance taken by Albee's estate could be just as impactful in this situation, anyway. In case you haven't heard, they're already making rigid judgments on matters relating to Albee's posthumous wishes.