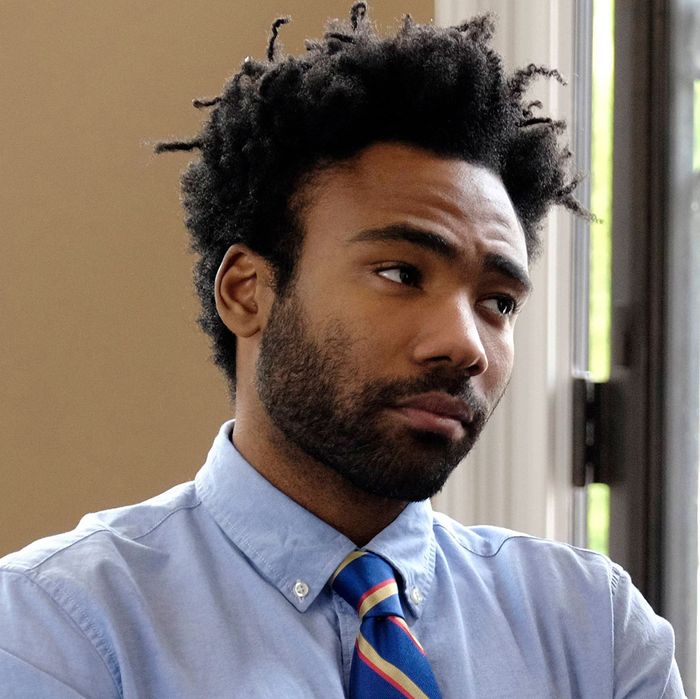 Donald Glover and Zazie Beetz in
Atlanta
.
Photo: FX Networks
This is an outrage! A shame! A travesty of a mockery of a sham of a mockery of a travesty of two mockeries of a sham.
Which nominations, you ask? ALL OF THEM.
Just kidding. There's plenty to be outraged about in this year's Emmy nominations, plenty to be happy about, and a few things worth being puzzled by. Same as it ever was, in other words. So let's move through my knee-jerk reactions, category by category. Bear in mind that I have a long track record of wrongly picking things I happen to like as winners, so don't lay down your money based on my gut, please.

Drama
Almost every TV series that toyed with established storytelling norms got shafted this year. The Young Pope, The Leftovers, Mr. Robot, and Orphan Black didn't have a prayer.
The only exception was Westworld, a series that didn't do so well critically but mixes the HBO Quality TV insignia proudly. Better Call Saul is the most interesting series in terms of form, and The Handmaid's Tale is the most powerful by a mile. My money is on The Handmaid's Tale to take the top prize and many others, including best actress (Elisabeth Moss) and direction (Reed Morano). This Is Us, one of the strongest freshman series in memory, could sneak in and take the top prize because it's the perfect merger of accessibility and seriousness, plus it was on a regular broadcast network, not cable or streaming, and the old-school shows often turn into sentimental favorites.
If Stranger Things wins, I'll be irritated but not mad; it's the least interesting of the nominated series, but probably the most likable, and it was a bonding experience for a lot of households, mine included. If Westworld sweeps this category, though, I will find an antique player piano and destroy it with a six-shooter. If nominating an HBO series is mandatory in this category, and it often seems as if it is, The Leftovers should have been the one.
Keri Russell of The Americans (which was omitted from Best Drama after sneaking in last year) keeps getting nominated and going home empty-handed. I expect that to be the case again this year, unfortunately. There's a chance that her co-star Matthew Rhys could win (he's also up as Guest Actor in a Drama for playing the pervy novelist on that episode of Girls). But Sterling K. Brown, who won in the mini-series category last year for The People v. O.J. Simpson, is clearly the man to beat. This is his time.
It's exciting to see Riz Ahmed get a nomination for his lead work alongside fellow nominee John Turturro in The Night Of; he was also nominated as Guest Actor for playing the surfing instructor on the final season of Girls.
I hoped that Jude Law might've managed to find his way in here somehow, and that The Young Pope as a whole might get some love, but maybe the show is just too weird for most folks.
People always say people got "snubbed" when they aren't nominated for something. The word is rarely used correctly: It implies deliberate malice or some sort of message on the part of the nominating body, when in fact it is usually only the fans, and perhaps the non-nominees, who feel snubbed, and the omission is nearly always just a matter of the math not shaking out quite right, for whatever reason. But the omission of Michael McKean (our pick for the Vulture TV Awards as the year's best actor) as Best Supporting Actor for a Drama, after his heart-wrenching work on Better Call Saul, does feel egregious. Maybe this is because the Emmy voters nominated his co-star Jonathan Banks in the same category and Bob Odenkirk as Lead Actor for the second year in a row. They were good, but McKean was great. It makes you wonder if the voters watch the shows they are voting on.
Carrie Coon didn't get a Best Actress nomination for the final season of The Leftovers, despite giving one of the most powerful and thoughtful performances in memory. But she's up as Best Actress in a Limited Series for season three of Fargo, so if she wins, it might as well be considered a "body of work" award for her acting in 2017. At least, I choose to think of it that way.
Comedy
This is the least white of the major categories, with the brilliant Atlanta, the clever and pleasing Master of None, and the consistently excellent Black-ish taking three of seven slots. My preference would be Atlanta, but Silicon Valley, which was superb last year, could win. Please, God, not Modern Family again. Girls did not find its way into the mix, despite having what some (including this writer) thought was its strongest season.
Of the actor nominees, I like Atlanta's Donald Glover best. He's doing a brilliant deadpan here, reacting to everything and everyone around him. Brian Tyree Henry, who plays Paper Boi, should've been nominated in Supporting.
Rachel Bloom also should've been nominated for Crazy Ex-Girlfriend. She should've been nominated and won for her work last year, in season one, too. Pamela Adlon of Better Things or Tracee Ellis Ross of Black-ish are my preferences to win here.
I'm happy to see Allison Janney of Mom moving up from Supporting to Lead in this category. She's terrific, and she was always a co-lead, even though she wasn't sold that way to critics and awards groups.
I'm a bit surprised that longtime Emmy darling Ted Danson didn't get a Supporting nomination for his work on The Good Place, although that is such a peculiar series that there might have been some problems getting voters to connect with it, much less watch it.
And where is Rita Moreno's nomination as Best Supporting Actress for the reboot of One Day at a Time? For a lot of reasons, including sentiment, demographics, and the excitement of seeing a woman in her 80s be sexy, you might've thought she'd be a shoo-in.
Limited Series and Movies
This is where the real excitement is this year.
The momentum is probably with Big Little Lies, a great series that just happens to be about a life similar to the one that a lot of Emmy bigwigs live (big houses with tall windows, beachfront property, private schools, etc.). Nicole Kidman will probably take Best Actress over her colleague Reese Witherspoon for her searing portrayal of an abused wife who decides to take her life back.
Feud: Bette and Joan made a much stronger showing than some of the reviews might have indicated, snagging Supporting nominations for Judy Davis, Jackie Hoffman, Stanley Tucci, and Alfred Molina, and Best Actress nominations for Susan Sarandon and Jessica Lange.
Laura Dern and Shailene Woodley were both excellent in Big Little Lies, but it feels correct that they were nominated in the Supporting Actress category.
Witherspoon and Kidman drove that show.
I'd like to see The Night Of co-star Bill Camp, who was also superb in the final season of The Leftovers, win in the Best Supporting Actor, Limited Series or Movie category. He has a 1940s character-actor sort of vibe. You could imagine him smoking cigarettes with Humphrey Bogart.
I have a sinking feeling that The Wizard of Lies, an account of the Bernie Madoff scandal that had impeccable writing, directing, and acting credentials, but ended up being good instead of great, will win the top prize and a few other awards in the movie category, mainly because large numbers of voters either lost money to Madoff or know people who did.
Variety Sketch Series
My pick in this category is Documentary Now! But I realize that show is a bit too nerdy for the room it's in, no matter what room it is. Drunk History would be a fine choice.
Animated series
This category is a joke, folks. If Samurai Jack and Bojack Horseman aren't in it, there's no point taking it seriously.
Odds and Ends
•  It's great to see the late, great Carrie Fisher get nominated as Guest Actress in a Comedy for her role on Catastrophe, but it's a bummer that the show didn't get more love, especially since it got some last year. Insecure and Fleabag got shut out, too, though it's easy to imagine such high-quality series remedying that in the future.
• Look for Alec Baldwin to take Best Supporting Actor in a Comedy for his work as candidate and then President Donald Trump on Saturday Night Live, just because people want to see what the president will say about it on Twitter the next day. This is the world we live in, folks. Baldwin deserves to win for his work on Match Game in the category of Host for a Reality/Reality-Competition Program. It's not easy to convince audiences simultaneously as a glad-handing host of this kind of show and a meta-commentary on that kind of performance, and Baldwin succeeds on both fronts.
•  Again, Michael McKean was left out. For crying out loud.
• So was Eva Green of Penny Dreadful, one of the best shows that never got taken as seriously as it deserved.