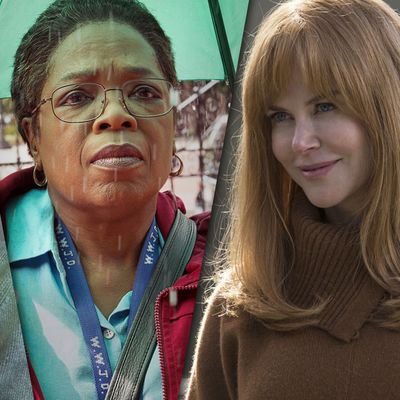 Carrie Coon (left), Oprah Winfrey (center), Nicole Kidman (right).
Photo: HBO
Just about any Emmy Award category these days can accurately be described as competitive. But in the competition that decides which Emmy category may be the most competitive — because, sure, let's take this awards thing to that level — the Outstanding Lead Actress in a Limited Series or Movie may be the ruler of them all this year.
Certainly, this field has been stacked with great performances from fine actresses before. But in recent years, it was usually pretty clear, even before the nominations were announced, who would emerge as the winner. Sarah Paulson in The People v. O.J. Simpson? She had that Emmy at "I object, Judge Lance Ito." In 2015, as strong as contenders like Queen Latifah and Maggie Gyllenhaal may have been, it was pretty clear the Emmy would go to Frances McDormand for Olive Kitteridge. The same could be said of the years when Jessica Lange won for American Horror Story: Coven, or Julianne Moore won for Game Change, or Claire Danes won for Temple Grandin.
This year is different. There are so many extraordinary actresses in the mix that it's difficult to figure out which six will make it into the inner circle when nominations are announced on Thursday, let alone determine who might wind up with an Emmy statuette in her hand come September.
For starters, there's the Big Little Lies contingent. Both Nicole Kidman and Reese Witherspoon are vying in the Lead Actress category (Laura Dern and Shailene Woodley are positioned in Supporting), and it's hard to imagine a list of nominees without both of them on it. Then there's Feud: Bette and Joan, last spring's other deep dive into female rivalry, which asks voters to consider both Jessica Lange and Susan Sarandon, an ironic prospect considering the fierce Oscar showdown between their characters, Joan Crawford and Bette Davis, that was depicted on the FX series. (Honestly, Lange should arrange to accept on behalf of whoever wins.)
That leaves three slots open, which means there's room for Carrie Coon's work as the sturdy, undaunted Gloria Burgle on Fargo, and possibly for Felicity Huffman, who has been nominated on two previous occasions for her work on American Crime without winning an Emmy.
And then there's Oprah Winfrey, who turns herself emotionally inside out in The Immortal Life of Henrietta Lacks, in what may be the most revelatory performance of her career. I don't see how you can move forward with this category this year without including Oprah in it, too.
Again, this isn't the first time the Actress in a Limited Series race has overflowed with work from some of the top actresses in Hollywood. As one example, I refer you to 2004, when Meryl Streep, Glenn Close, Helen Mirren, Judy Davis, and Emma Thompson were all nominated. But the amount of talent in this single category speaks to a broader trend: how dominant female performances have been, across the board, during the past year.
The members of the Television Critics Association, including me, recently engaged in nominating and voting for the organization's TCA Awards, a process that involves choosing nominees in the Individual Achievement in Drama and the Individual Achievement in Comedy categories. These are, essentially, awards for the best actor in each genre, without respect to gender.
In recent years, it's been fairly common (and refreshing) for the Individual Achievement in Comedy nominees to be majority female; such is the case again this year, with five women (Pamela Adlon, Kristen Bell, Julia Louis-Dreyfus, Issa Rae, and Phoebe Waller-Bridge) and two men (Aziz Ansari and Donald Glover) making it to the final round. Individual Achievement in Drama generally tends to skew more male. But this year, six women — Carrie Coon for The Leftovers and Fargo, Claire Foy for The Crown, Kidman, Lange, Sarandon, and Elisabeth Moss for The Handmaid's Tale — were nominated, while only one man, Sterling K. Brown of This Is Us, managed to fight his way onto the list.
While engaging in the initial process of suggesting nominees, the performances that immediately leaped to my mind tended to be ones that came from women, including the ones mentioned above, as well as Rita Moreno and Justina Machado in One Day at a Time; Lena Dunham in the final season of Girls; Tracee Ellis Ross on Black-ish; Millie Bobby Brown in Stranger Things; and probably 50 more if I just keep on rolling out names. Which is not to say the year was lacking strong work from male actors. I recently wrote quite a number of words solely on how flawless Michael McKean was on Better Call Saul. There are plenty of other men who are very worthy of Emmy nominations this year, too.
But what's striking about the performances from women this year is not just the sheer number of really great ones, but the fact that so many of them are memorable. The reason they're memorable is partly because of the quality of the acting, but also because the actors are increasingly getting to bring to life characters who are fully realized, idiosyncratic, individuals, each of whom — like actual women — is completely her own person.
A number of the women mentioned above aren't just actors on their shows, they're also either producers or creators of the series in which they star, and that makes a difference, too. A woman can give a thrilling performance in a show that she didn't write or produce herself, of course. But when she's more deeply involved in the creative process behind the scenes, she can have an even deeper impact on shaping her character. Phoebe Waller-Bridge, Issa Rae, Lena Dunham, and Pamela Adlon convincingly inhabit their characters because they are talented actors, but surely it helps that they've known them since they first showed up on a page. They are these women, but they're also the women who gave birth to these women.
Thanks to them, and others, there are more complicated, screwed-up, petty, flawed, strong-as-hell women on TV now than there have ever been. That's making voting for or predicting the Emmy nominees and winners extra hard this year, especially in that megastacked Actress in a Limited Series category. There's an embarrassment of riches there and elsewhere. It serves as a reminder of how much great television can be created when female actors — and writers, producers, and directors, too — are given the space to tell their stories, on their own terms and from their perspectives. Let's hope this sort of Emmy "embarrassment" only continues.