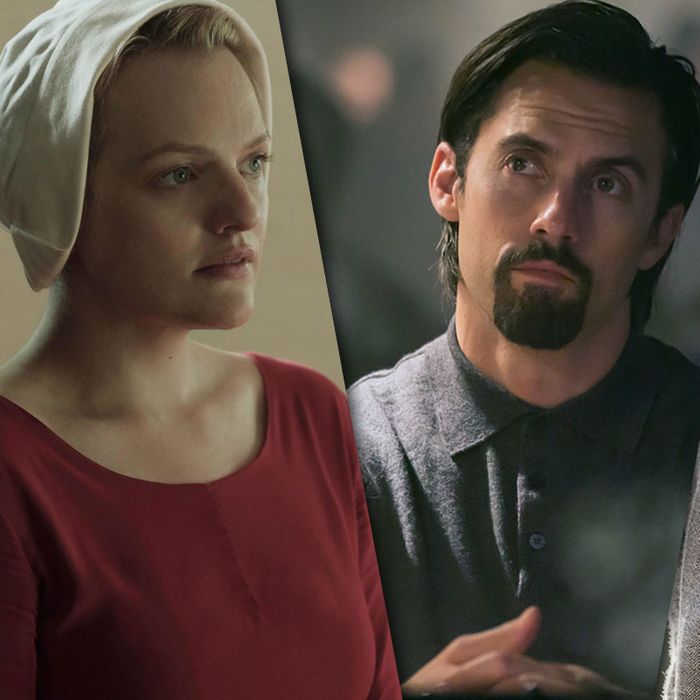 L-R:
The Handmaid's Tale, This Is Us, Westworld
Photo: Hulu/NBC/HBO
Game of Thrones has won the Emmy for outstanding drama for the past two years, but you won't hear it mentioned when this year's nominations are announced Thursday morning.
That's because the Song of Ice, Fire, and Jon Snow Reincarnation is out of contention this year, as the Emmy voting period, which runs from June 1, 2016, to May 31, 2017, fell between Game of Thrones seasons this time around. The absence of the HBO juggernaut, as well as another perennial nominee in the drama category — Downton Abbey, which ended its run last year — could make way for more first-time nominees for Outstanding Drama than we've seen in several years.
As I noted in this piece last summer, Emmy voters have an addiction to nominating the same dramas over and over again. For the past several years, nods have basically been guaranteed for Game of Thrones, Homeland, Downton Abbey, House of Cards, Breaking Bad and, when that show was over, its prequel Better Call Saul, and, until Don Draper finally said farewell while learning to meditate, Mad Men.
Last year, The Americans, in its fourth season, finally got a nomination, and so did newcomer Mr. Robot, both benefitting from the exit of Mad Men and the fact that the category had been expanded a year earlier to include seven nominees. But this year, award-tracking site Gold Derby suggests we could see "an Emmy revolution" with Better Call Saul and The Americans likely to be nominated again but, otherwise, a total overhaul of the contenders.
Which series will most likely be recognized by the voters for the first time? Here are the seven that have the strongest shot.
This Is Us: The breakout hit of the fall season has a lot of things working in its favor. It's the sort of tear-jerking family drama that hasn't been recognized in this category in a while; it's got a relatively diverse cast; and, perhaps most important to some Emmy voters, its success serves as a reminder that a network like NBC can still be relevant. If this heartstring-tugger gets nominated, it will be the first time in six years that one of the major broadcast networks has been represented in the Outstanding Drama category. (The last time was in 2011, when CBS's The Good Wife and NBC's Friday Night Lights both made the cut, but lost to Mad Men.) I have to think that Emmy voters will want to take this opportunity to give a non-cable/non-streaming series its due.
The Crown: Everything about this Netflix portrait of Queen Elizabeth II announces itself as an award contender, from its impeccable production values to its excellent cast to the pedigree of its creative team, which includes Academy Award–nominated creator Peter Morgan and directors like Stephen Daldry (The Hours) and Philip Martin (Prime Suspect: The Final Act). The Crown wasn't created for the purpose of sliding into the British-period-piece Emmy slot that Downton Abbey left vacant. But that is precisely what it's going to do.
The Handmaid's Tale: Hulu's adaptation of Margaret Atwood's novel was well-received, and its white-bonneted, red-caped handmaids became a symbol of Trump-era political protest. Which is to say that this series felt more Important and Relevant (capitalizations intended) than any other drama on TV this spring, and also arrived at just the right time to benefit from a recency effect in the minds of Emmy voters. If Handmaid's gets a nomination, it will be the first best-series Emmy nod for a Hulu original. I think it has a strong chance of achieving that milestone.
Westworld: This Western-with-robots didn't necessarily win over every member of the television community. (Exhibit A: Ted Danson's recent comment to our Devon Ivie, "I haven't seen Westworld, but I hear it's horrible.") It's also a drama with sci-fi underpinnings, which could be a strike against it since genre shows generally don't do well at the Emmys. On the other hand, Westworld's first season was impressively ambitious, well-acted, and, like The Crown, you could see and feel in every episode that HBO had invested a great deal in the production. I'm not certain that Westworld will be nominated, but I am certain that if it is, it will probably bump another deserving HBO series from the Outstanding Drama race. And that HBO drama is …
The Leftovers: It was a travesty last year that the masterful second season of The Leftovers was completely overlooked at the Emmys. I fear that could happen again this year, which would be a shame. The third and final season of The Leftovers was easily one of the most inventive, emotionally shattering dramas of the past year and deserves to be nominated. (I'd even argue it deserves to win.) If enough Emmy voters take the time to watch their screeners, it has a shot at getting a nomination. I'm mildly optimistic that will happen. But only mildly.
The Good Fight: If this had aired on plain old CBS, I'd say it had a better chance of getting nominated. But because it was a CBS Access series, it didn't generate as much buzz with audiences as some of these other contenders, and some voters may not have gotten around to watching it. On the other hand, some may want to throw their support behind it because it represents the point in the TV Venn diagram where broadcast and streaming overlap; plus, more attention for it will send the message that the CBSes of the world can also play Netflix's game. The fact that The Good Wife used to regularly win Emmy love also can't hurt its chances.
Stranger Things: Doesn't it feel like this came out ten years ago? There's been so much TV since last July that it's possible Stranger Things will be forgotten, despite Netflix's best efforts to campaign on its behalf. Even more so than Westworld, it's also a genre show and that could be a challenging factor to overcome, especially if Emmy voters insist on keeping repeat nominees House of Cards or Homeland in the mix. This could still make it to the final seven, though, especially if the Demogorgon decides to have a few words with voters.
Oh, and in case you're wondering… Twin Peaks, which was named the Best Show on TV in the Vulture TV Awards, isn't eligible for Emmy consideration this year because not enough of its episodes aired before the May 31, 2017, deadline. Next year, Wally Brando. Next year.