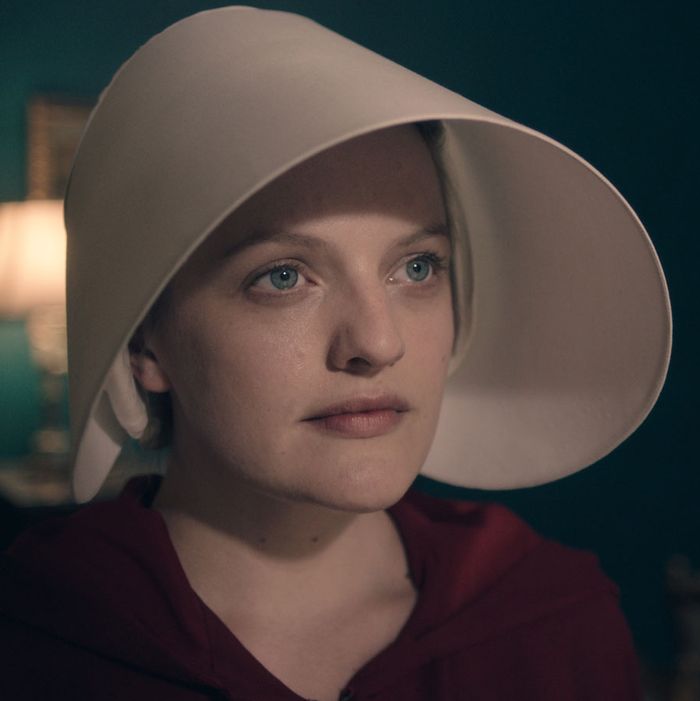 The Handmaid's Tale
is one of many shows recognized with a male showrunner.
Photo: Hulu
Female TV creators and showrunners made a number of breakthroughs last season — but you wouldn't know it from the biggest Emmy categories. Sure, this year's nominations honored a number of nonwhite series creators and performers, most notably in the outstanding comedy race, where Atlanta, Black-ish, and Master of None all got nominated. But despite that progress, the TV Academy arguably took a step backward in terms of gender diversity. The most sobering statistic: Not a single one of the 14 best comedy or drama series nominees this year boasts a solo female showrunner or creator. So much for toppling the patriarchy.
To be sure, it's not as if the series categories have ever been bastions of female-driven storytelling. All it took for there to be zero nominated series which sprang solely from the mind of a female creator was for the Academy to leave off Jill Soloway's Amazon dramedy Transparent, overlooked in the outstanding comedy category this year for the first time since its 2014 premiere. If you expand your definition of diversity to include shows where women are co-creators or showrunners, the list of nominated programs grows to exactly … two: Unbreakable Kimmy Schmidt (Robert Carlock and Tina Fey) and Westworld (Lisa Joy and Jonathan Nolan). And while the mega-nominated The Handmaid's Tale is perhaps the year's ultimate feminist story, and based on the novel by Margaret Atwood, the show itself was created by a man, Bruce Miller. HBO's female-focused Big Little Lies, which cleaned up in the limited series category, is another project based on the work of a female author (Liane Moriarty) but shaped for the screen by men (writer David E. Kelley and director Jean-Marc Vallée).
What's frustrating about the gender imbalance in the nominations is that the 2016–17 season featured so many female-powered newcomers which, at least in theory, might have broken through with Emmy voters. Queen Sugar, One Day at a Time, Insecure, and I Love Dick all got critical raves, and Sugar is a bona fide ratings hit for OWN. But all four shows are completely MIA from major categories. Dive into the writing and directing categories, and things are nearly as depressing. Not one woman snagged a nomination for writing or directing a limited series. In the comedy- and drama-writing categories, the only female nominees (Lena Waithe, Master of None; Joy, Westworld) had to share credit with male writers. And while Ava DuVernay generated all sorts of industry praise for staffing Queen Sugar with only female directors, Academy voters yawned, nominating none of her recruits. On the bright side, DuVernay did get a directing nomination for 13th, while three of the seven drama directing nominees are women. Samantha Bee also broke into the best talk show and talk-show-hosting categories, building on Full Frontal's writing nomination last year. But overall, despite Emmy's inclusiveness on so many fronts, this year's roster of honorees shows how much work the TV Academy — and the TV industry overall — has left to do.