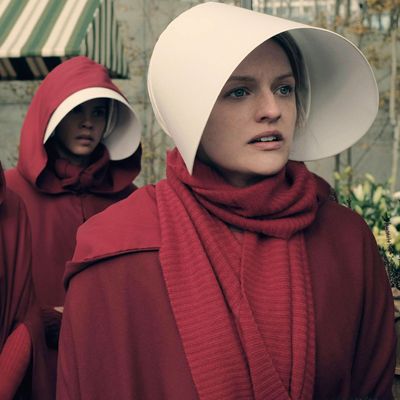 Hulu's
The Handmaid's Tale
.
Photo: George Kraychyk/Hulu
When nominations for the 69th annual Emmy Awards are unveiled Thursday, odds are executives at Netflix, HBO, and FX will once again be very happy with the results. All three outlets are expected to snag dozens of nods, boosted by established hits as well as newcomers such as Stranger Things, The Crown, Atlanta, Westworld, and Insecure.
But while TV's award-season heavyweights battle to outdo each other in overall volume, for some players, it really will be an honor just to be nominated at all. Much the same way consideration can massively boost the fortunes of individual shows and actors — think of the boost Transparent got from Emmy's embrace— networks and streaming services also stand to benefit greatly when the TV Academy shows the love. Nominations, or more specifically the publicity blitz that often surrounds them, might not directly lead to bigger ratings or more subscribers, but they can absolutely help programmers stand out amid the chaos of Peak TV. Here's a guide to four outlets with particularly big Emmy dreams this year, and how landing those nominations would help.
Hulu
The streamer's "for your consideration" awards website, targeted at TV Academy voters, lists nearly a dozen originals it believes are worthy of Emmy love, from Triumph the Insult Comic Dog's second 2016 election special to buzzy comedies Casual, Difficult People, and The Mindy Project. It's quite possible some of the aforementioned projects will end up with nominations this week, and given his House legacy, a Hugh Laurie nomination for drama Chance, while not expected, wouldn't be a total shocker. But let's face it: Hulu's big awards hopes this season are all built around The Handmaid's Tale. The dystopian drama was an instant critical smash, and it's permeated into pop culture like no other prior Hulu original (and few other new series from last season).
While Elisabeth Moss seems a lock for a Best Actress nomination, anything less than multiple nominations for THT would be considered a massive snub by Emmy voters.
Why nominations would matter: Hulu hardly suffers from brand awareness, and with most of the major entertainment conglomerates behind it, the service's medium-range future is more than secure. But until recently, Hulu has struggled to transcend consumer perceptions that it's basically a digital DVR for catching up on network shows. Even its first big original hit, The Mindy Project, was originally a broadcast series. While THT's season-one success has already gone a long way toward evolving Hulu's image, Emmy love would cement the streamer's arrival as a legit premium network and a creative force in Hollywood.  It would also give it much-needed ammunition in the ever-escalating battle to land top-tier creative talent, both in front of and behind the camera. Landing the best scripts and stars these days often takes more than a big wallet or promises of creative freedom: Showrunners and stars want to know an outlet can deliver proper marketing of their pet projects, as well as awards acclaim. A big haul for Handmaid's would help Hulu make the case that it's playing in the same league as Amazon Prime Video and Netflix.
OWN
While Oprah Winfrey's cable network has been in the Emmy race before, its six previous nominations (and sole win) all came in unscripted categories. (Turns out Academy voters aren't Tyler Perry fans, even if audiences devour his shows.) This year, however, OWN has two legit — if probably long-shot — awards contenders: Queen Sugar and Greenleaf. Both shows are in their second seasons, but are just now eligible for Emmy love. Of the two, Ava DuVernay's Sugar has gotten a bit more critical praise and buzz, though both shows have benefited from positive reviews (and strong ratings). DuVernay has become a major force in Hollywood, both in film and TV, so it's easy to see her ending up with a writing or directing nomination (or both), despite the very crowded drama field. As for Greenleaf, never underestimate the pull of the awards magnet that is Winfrey herself. Her personal association with the series automatically elevates its Emmy potential.
Why nominations would matter:  In a way, they won't — at least not to OWN. After a rocky launch back in 2011, the network has now, well, come into its own as a bonafide cable power, particularly among women under 55. In addition to being Emmy players, Sugar and Greenleaf are legit ratings hits, drawing numbers on par with established scripted forces such as FX, TNT, and USA Network. And while it's not part of award season conversation, Perry's The Have and the Have Nots continues to be a smash after five seasons. Bottom line: With its brand on target and its ratings rising, OWN will be just fine if Emmy voters overlook the maturation of its programming slate. On the other hand, the TV Academy — having made major progress toward diversifying its nominations last year — would underscore its commitment to looking beyond the usual awards-season suspects by recognizing the quality of OWN's scripted slate.
CBS All Access
The Eye network's streaming sibling has just one serious original-series Emmy contender, but it's one with a significant legacy. The Good Fight is a spinoff of The Good Wife, the now-ended CBS drama that racked up 43 nominations and five wins during its seven-season run. Fight comes from the same producing team (Robert and Michelle King) as its predecessor and, just as important, stars Christine Baranski reprising her role as Diane Lockhart. Baranski has been nominated for an Emmy a whopping 15 times during her career, including five supporting actress nods for Good Wife. Amazingly, she never won for Wife, but her strong overall nomination track record automatically makes her a strong contender with Fight. The Kings could also sneak in with writing nominations.
Why nominations would matter: Despite being associated with the very well-known CBS brand, CBS All Access is still in the embryonic stage of establishing an identity beyond The Place for Big Brother Live Feeds (and CBS reruns). One of the main reasons the streamer picked Fight as its first scripted original was because of its built-in fan base and the hope it would be able to spark cultural conversations in the same way its predecessor did. Reviews for Fight were very good, but because All Access has such a tiny subscriber base, the series didn't generate all that much buzz following its premiere. Emmy validation would give All Access a major marketing hook ("Stream the Emmy-nominated drama now!") in advance of Fight's second season and the coming launch of the streamer's second original, Star Trek: Discovery.
TBS
We mentioned Turner's comedy channel in a similar column last year, noting how much it was hoping the Academy would pay attention to Full Frontal With Samantha Bee and Angie Tribeca. It was not to be: Angie was ignored, and while Bee's show did snag a much-deserved nod for writing, it didn't break through in the host and show category. Still, TBS's comedy mojo has only grown stronger over the past year. The 2016 general election campaign and the Trump administration's crazy first months in office have made Full Frontal even-more-must-see TV. And while Angie probably is never going to be an awards-season darling, Emmy voters could surprise by noticing the stellar Search Party, one of 2016's most unexpected half-hour triumphs.
Why nominations would matter: Just like last year, TBS is still transitioning from the home of Other People's Sitcoms (The Big Bang Theory, Friends) to a comedy force of its own. The network's slate continues to strengthen, with Full Frontal and Search Party joined by the quirky People of Earth and Jason Jones's well-regarded The Detour. Legit Emmy recognition would encourage the network to continue making good stuff and convince comedy talent their efforts will be noticed if they opt to set up shop at TBS.