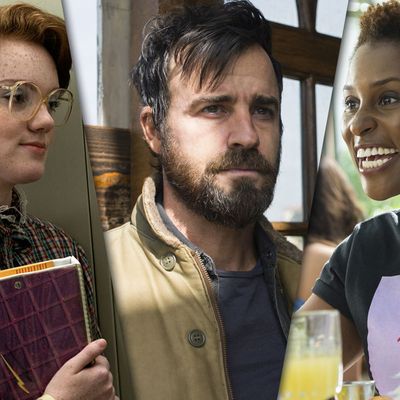 L-R: Shannon Purser from
Stranger Things
, Justin Theroux from
The Leftovers,
and Issa Rae from
Insecure.
Photo: Netflix/HBO
The Emmy nominations were announced this morning, and in classic, post-Emmy-nomination-announcement tradition, Vulture is here to tell you which shows and performers were unjustly overlooked — fine, you can say "snubbed," if you want — and which ones were surprisingly, often pleasantly, included. Spoiler alert: Award-related feelings of deep rage and profound joy lie ahead.
The Overlooked
The Leftovers and all of its cast, except for Ann Dowd: One of the best, if not the best, seasons of television got overlooked last year, along with all of its fine actors. I figured there's no way Emmy voters could completely whiff on The Leftovers again, especially after it delivered such a deep, soulful, fantastic final season. But nope, no outstanding drama nomination for this wonderful HBO series, because apparently frickin' House of Cards needed to get a nod again. There was also nothing for Justin Theroux, or Carrie Coon (although she did get nominated for Fargo), or Christopher Eccleston, or anybody else except Ann Dowd, who earned her two first-ever Emmy nominations today, one for her guest appearance as bizarro-world Secretary of State Patti Levin on The Leftovers and another for her intimidating Aunt Lydia in The Handmaid's Tale. Maybe all the nominations The Leftovers were supposed to get suddenly departed? That is the only explanation that makes sense.
Oprah Winfrey: Did the Emmy voters not watch The Immortal Life of Henrietta Lacks? Did they not see Winfrey leave everything she had on the field in her portrayal of the anguished Deborah Lacks? I get that there were a lot of Big Little Lies and Feud stars to include in the mix. But damn. Snubbing Oprah is a bold move. Emmy voters: You don't get a car, and YOU don't get a car, AND …
Insecure and Issa Rae: Another terrific HBO show that was bypassed in all areas: comedy series, writing, directing. Its creator and star Issa Rae didn't get recognized on the acting side, either. Given previous Emmy patterns, the award will probably go to Julia Louis-Dreyfus no matter who's nominated. But still.
Transparent: Um, how did this not get nominated for outstanding comedy? Did someone finally decide it was too much of a dramedy to qualify? Or is it because Modern Family is such a fresh, unexpected piece of work that there simply wasn't room for this consistently exquisite Amazon series?
The Americans: After finally getting a well-deserved outstanding drama nomination last year, The Americans got edged out by all those bright young dramas competing this year. Don't feel too badly for the Jennings, though: Both Keri Russell and Matthew Rhys were nominated in their respective lead acting categories, Alison Wright (Martha for the win!) got a nod as outstanding guest actress, and the season finale was recognized for its writing.
Girls: In its final season, neither the series nor the women of Girls nor the writing of Girls were recognized. Its music supervision — new category this year! — and three of its guest actors, double nominees Riz Ahmed and Matthew Rhys, as well as the great Becky Ann Baker, got something at least.
Michael McKean, Better Call Saul: The AMC series did well overall, with nine nominations. But McKean was shut out, with Jonathan Banks getting a supporting actor nod instead. Banks is wonderful, but this season definitely belonged to McKean. For all the reasons why, just read this.
Rita Moreno, One Day at a Time: This living legend and absolute delight somehow didn't get nominated for all the spice and heart she brought to Netflix's One Day at a Time reboot. The world: I don't understand it sometimes.
Phoebe Waller-Bridge, Fleabag: With the competition as fierce as it is, it seemed unlikely that the star of Fleabag would be noticed for her sneakily witty performance that ultimately morphs into something heartbreaking. It's still unfortunate.
Taraji P. Henson, Empire: After being nominated for her role as Cookie for the past two years, Henson missed the cut in the lead actress category.
The Tonight Show Starring Jimmy Fallon: The only late-night Jimmy excluded from the outstanding variety talk series category. Apparently the legend is true: If you ruffle Donald Trump's hair, it brings you at least one year of bad Emmy Awards luck.
The Surprises
Stranger Things and, especially, Shannon Purser: Sci-fi and genre shows usually don't do all that well with Emmy voters, but man, did they go hard for Stranger Things! The '80s throwback snagged 18 nominations overall, including ones for outstanding drama, directing, writing, main title design, and theme (obviously), and for supporting actors David Harbour and Millie Bobby Brown. But most surprising of all is the guest actress nomination that went to Shannon Purser, who played the dearly departed and deeply revered on the internet, Barb. Don't let anyone ever tell you that you can't become an Emmy nominee even after the Demogorgon kills you. Because you can, kids. You can.
All That Love for Saturday Night Live: This was unquestionably a major season for SNL. We spent a whole week acknowledging that fact. But even we didn't imagine the series would, along with Westworld, lead the Emmy field with 22 nominations, including not one, not two, but three in the supporting actress in a comedy race. (That's one for Kate McKinnon, one for Vanessa Bayer, and one for Leslie Jones.) That's yuuuuuuuge.
RuPaul's Drag Race: This show finally hit the mainstream in a big way this year, and apparently Emmy voters noticed. It was nominated for seven Emmys, eight if you count the one for the YouTube offshoot RuPaul's Drag Race Untucked, including outstanding reality competition series. Sashay away? Don't think so.
Pamela Adlon, Better Things: I was so thrilled to see Adlon get nominated as outstanding actress in a comedy for her work on Better Things. She already has one trophy for her voice work on King of the Hill. Let's see if she can add another. (I mean, probably not, because Julia Louis-Dreyfus is in the same category. But let's keep this positive right now, okay?)
B.D. Wong, Mr. Robot: After being nominated for outstanding drama and that win for Rami Malek last year, the Emmy nominations were a bit of a comedown for Mr. Robot. However, it was nice to see B.D. Wong recognized in the guest actor in a drama category for his sly work as Whiterose.
Martha and Snoop: Martha Stewart and Snoop Dogg were co-nominated as best reality show hosts for Martha and Snoop's Potluck Dinner Party. So don't tell me America's divided.
Black Mirror: San Junipero … was nominated as best TV movie? Shouldn't that be part of a limited series? You know what, who cares? They say in heaven, love comes first, so let's make heaven a place in the outstanding TV movie category.
Carpool Karaoke Primetime Special: Was this really one of the most outstanding variety specials of the year? I mean … was it?
There are tons of other shows that were overlooked or came as a surprise that are not mentioned here. Feel free to shout about them in the comments, or on our Twitter and Facebook feeds.