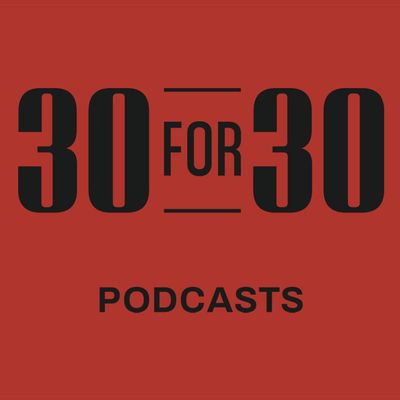 After you make an Oscar-winning documentary epic, what's next? For ESPN, the answer is a podcast.
Such is the recent arc of ESPN's beloved documentary series "30 for 30." In the eight years since its inception, "30 for 30" has been a consistently surprising creature. Its back catalogue — littered with truly great docs like The Two Escobars and The Best There Never Was, not to mention Ezra Edelman's seven-hour epic O.J.: Made in America, which won ESPN its first Academy Award in February — collectively tells the story of an editorially minded infrastructure that lets its storytellers run wild and free from the constraints of formula.
It is against this internal history that 30 for 30 Podcasts enters the fold. When ESPN announced the adaptation last year, it made all the right moves. It brought in Jody Avirgan, who had successfully led audio efforts at ESPN's sister politics site, FiveThirtyEight, hired a bunch of producing talent native to the form — including Rose Eveleth of Flash Forward fame, Julia Lowrie Henderson, and Andrew Mambo — and kept the entire team within the established "30 for 30" infrastructure, with executive producer Libby Geist heavily involved in the project.
That said, it's easy to imagine how the introduction of 30 for 30 Podcasts might have engendered internal tension. After all, you have a small team of audio upstarts working within a successful eight-year operation that's long been optimized and oriented toward video. Traditionally, this can lead to creative differences. But if friction did exist, it's hardly discernible: 30 for 30 Podcasts is very good so far. At this writing, four of the six episodes that make up its first season have been published, and all four drip with the enthusiastic energy that's vital to effective storytelling about sports.
Each episode is crafted with distinct verve and pep, which goes a long way toward building an immersive listening experience. In a move that mimics the main brand's versatility, 30 for 30 Podcasts uses its anthological structure to allow for rapid shifts in genre and tone with an appealing variety of stories. The real genius is how it leans into the pop-culture genres that each story naturally evokes: There's an Ocean's Eleven–esque heist flick ("A Queen of Sorts"), an adventure piece about the first women's expedition to the North Pole ("On the Ice"), a college hijinks romp ("Yankees Suck"), and a comparatively straightforward sports feature ("The Trials of Dan and Dave"). That range is enviable, and the show's elasticity accommodates these varied stories without compromising its sense of identity.
"Yankees Suck" is the standout feature so far. An adaptation of a Grantland feature written by Amos Bashad in 2015, it is a classic story with a familiar arc: A band of young knuckleheads get up to chicanery in pursuit of fame, fortune, and good times, only to learn that the world bends toward an unforgiving nature. As anchored by Henderson, the episode unfolds as a window into the culture of a specific moment and place — turn-of-the-millennium Boston, in a community energized by a hardcore scene — and it's yet another examination of how even the smallest of things changed in the shadow of 9/11. It's a quintessential "30 for 30" story.
There are some kinks with the series, to be sure. It's occasionally stiff, perhaps due to the aforementioned potential tension between visual and audio cultures. That tension expresses itself most acutely in certain parts of the scripting, particularly when the 30 for 30 Podcasts team must verbally describe what "30 for 30" could previously convey with a few seconds of visual footage. At times, this results in breakdowns in comprehension — I still don't quite grasp the sleight-of-hand baccarat trickery explored in "A Queen of Sorts" — and at other times, it blunts the emotional impact of an episode, as was the case with the titular Olympic qualifying trials in "The Trials of Dan and Dave." This is the biggest hurdle facing 30 for 30 Podcasts: It has to develop a new vocabulary, and maybe even new techniques, to tell these very visual sports stories.
In fairness, these are the growing pains of early engineering. Avirgan is said to be building the podcast for the long haul, and so every episode is a learning experience. Even in this first season, though, the project is an unambiguously successful adaptation of the "30 for 30" brand.
30 for 30 Podcasts is also a great addition to an ecosystem that supposedly lacks sports podcasts. The bulk of what we have in podcasting comes in the shape of sports talk media, from the Ringer Podcast Network launched by Bill Simmons — Simmons, by the way, is the co-creator of "30 for 30" with Connor Schell, though he is not involved in this adaptation — to Barstool Sports to whatever Lebron James and Uninterrupted are cooking up to ESPN itself, which is porting more of its radio shows over to the podcast ecosystem in pursuit of younger audiences and additional dollars. (The economics of podcasting still remains dwarfed by traditional radio, for reasons of precedence and inertia.)
When we talk about a lack of sports podcasts, we're really talking about is a lack in certain kinds of sports storytelling, like audio documentaries and storytelling narratives. Think This American Life, but for sports. Within this frame, the claim of dearth is somewhat true — as true, arguably, as in television and video documentaries when "30 for 30" first launched in 2009. There have been some noteworthy attempts, of course, including The Season, WNYC's tweedy but fun documentary about Columbia University's underachieving college football team; the D-League basketball episode of NPR's investigative series Embedded; and Issa Rae's Fruit, a fascinating audio drama from last year that explores questions about race, gender, and identity through the story of a black football star questioning his sexuality. (Fruit was originally distributed behind the paywall of the Stitcher Premium service, and it was released widely last week.)
But 30 for 30 Podcasts, with its anthology format and ability to adopt different voices, is poised to be the first major podcast where sports stories of greater narrative ambition can flourish. Its early episodes highlight exactly what was said to be missing in the podcast space when it comes to a certain kind of sports story: tales of women and women who are also Greek gods, imperfect beings with brief windows of perfection, and the embodiment of toil and aspirations. These are profiles of dualities embodied by actual people, from champions and failures to legends and mortals, and sometimes even angels and demons.
A second season of 30 for 30 Podcasts is said to already be in the works, with November as its planned drop date. I'm excited to see how this operation grows, and where it will take the genre.