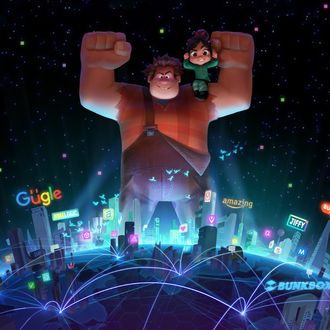 Photo: Walt Disney Animation Studios
The first Wreck-It Ralph had its fair share of cameos from video-game icons like Q*bert and Bowser, but to populate the world of its sequel, Wreck-It Ralph 2: Ralph Breaks the Internet, Disney didn't have to look far from home. As revealed today at D23, Disney's fan expo, the new film will see Ralph (voiced by John C. Reilly) and Vanellope (Sarah Silverman) venturing out of the arcade and into the internet in order to save Vanellope's broken-down game Sugar Rush. One of the sites they'll visit is a Buzzfeed-like world that introduces the new character Yesss, a blue-haired trend-spotter voiced by Taraji P. Henson, but it was another site-world, shown in a fairly extensive sequence, that had D23 audiences buzzing.
In that long clip, Ralph and Vanellope go to a world that isn't just a take on official Disney fansite OhMyDisney.com … it is OhMyDisney.com. Yes, a large part of Wreck-It Ralph 2 takes place in a world devoted to Disney products and characters, as though Ralph and Vanellope had stumbled into a Disneyland gift shop writ large. Every major studio cocooned under the Disney umbrella is represented here, from a Tinkerbell fly-by to a pop-in from C3PO, and we even get a cameo from Marvel's Stan Lee. If the full title of Wreck-It Ralph 2: Ralph Breaks the Internet is too wordy, perhaps Disney's new film would be better retitled as You're Welcome, Shareholders!
At least Wreck-It Ralph 2 has some fun with the astonishingly self-referential concept after the mischievous Vanellope decides to infiltrate a dressing room fill of Disney princesses just to mess with them. As she crashes their party, all of the Disney princesses leap into self-defense mode, and I do mean all of them: The studio enticed nearly every actress who's voiced one of those young monarchs to come back for Wreck-It Ralph 2, including Frozen's Kristen Bell, The Little Mermaid's Jodi Benson, Tangled's Mandy Moore, Mulan's Ming-Na Wen, and The Princess and the Frog's Anika Noni Rose.
Eventually, the young ladies take to Vanellope, who gives them a glammed-down make-under: Out go the gowns and in come the slouchy T-shirts and sweatpants. (Ariel is so psyched by her casualwear that she nearly breaks into a leisure-themed reprise of "Part of Your World.") And though Vanellope initially wanted to prank the princesses, she quickly finds she's got a lot in common with most of them … even if she can't understand a word said by Brave's Merida, who speaks in a thick Scottish brogue. "She's from the other studio," explains one catty princess.
Speaking of that other studio, Pixar had a few announcements of its own at D23, including an upcoming film with a "mundane, modern fantasy setting," where the trolls, elves, and sprites from fairy tales live in tract mushroom houses, each with a minivan parked out front. Today, though, it was Wreck-It Ralph 2's ultimate Disney spectacular that stole the show. "Oh my Disney," indeed.