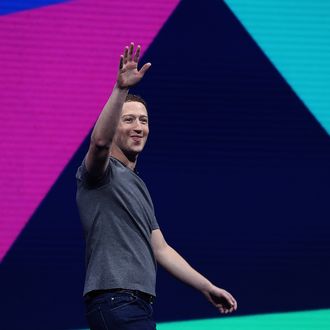 Photo: Justin Sullivan/Getty Images
Facebook just leveled up in the land of peak TV, green-lighting two new original series, according to Deadline. In the Upworthy-esque Returning the Favor, Mike Rowe (of Discovery Channel's Dirty Jobs and CNN's Somebody's Gotta Do It) searches out people around the country who are putting their communities first, like "a motorcycle mechanic who runs an operation helping vets with PTSD." And then there's the as-yet-unnamed documentary series about the Ball family, whose sons, Lonzo, Liangelo and LaMelo, are shining in the basketball world — Lonzo Ball was the Los Angeles Lakers's No. 2 pick in the 2017 NBA draft. Last month, The Wall Street Journal reported that the first batch of original series will be 30-minute episodes, including ads.
The social-media giant announced in December that it was getting into scripted content, specifically with "original and licensed scripted, unscripted, and sports content, that takes advantage of mobile and the social interaction unique to Facebook." Now with 2 billion monthly active users, Facebook's reach is ever-expanding.