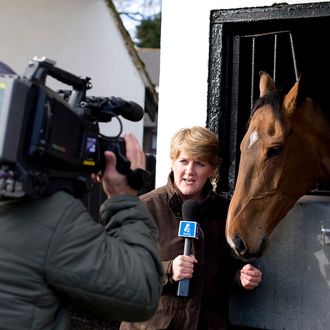 Clare Balding is among the high-profile broadcasters protesting the pay gap.
Photo: Alan Crowhurst/Getty Images
The BBC's highest-profile female presenters and personalities have written an open letter to their boss, BBC director-general Lord Tony Hall, demanding they be paid equally to their male counterparts.
More than 40 female BBC stars have signed the letter, including British household names like broadcasters Clare Balding, Victoria Derbyshire, and Angela Rippon. The letter reads:
"The pay details released in the annual report showed what many of us have suspected for many years … that women at the BBC are being paid less than men for the same work."
Not unlike in the U.S., British women earn 18 percent less than men on average. But earlier this week, under new government rules, the BBC was required to publish a list of presenters making over £150,000, or about $200,000.
The disclosure showed a glaring pay gap at the company. On a list of 96 employees earning more than £150,000, only 34 were women. In one example, John Humphrys, a male host on the flagship news show Radio 4 Today, earns between £600,000-£649,999. His female co-host, Sarah Montague, earns under £150,000.
When the list was released earlier this week, a BBC spokesperson insisted the company is taking the issue seriously:
"We have made significant changes over the past three years but need to do more. Tony Hall has pledged the BBC will go further, faster. Across the BBC, the average pay of men is 10% higher than women. The national average is 18%. We are committing to closing it by 2020 — something no other organization has committed to doing."
The women are now asking to meet with Lord Hall and "politely" taking the fight to Twitter.