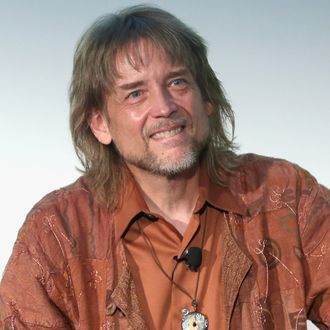 Steve Whitmire.
Photo: Cindy Ord/Getty Images for Vulture Festiva
Steve Whitmire has been involved with the Muppets for 38 years, and he has been the voice of Kermit the Frog for 27 of them — since Muppet master Jim Henson died and bestowed the honor upon him in 1990. News came out a few days ago that Whitmire would no longer be voicing the venerable character, but as The Hollywood Reporter said at the time, "The Muppets Studio spokeswoman declined to discuss the details behind Whitmire's departure." Today, Whitmire is using the internet to share his side of the story, and it will really make you sad. In what seems to be his first blog post, Whitmire says he was dismissed by Disney in October of last year, and that he has waited this long to speak out in hopes that the people in charge at the Muppets Studio would change their minds and take him back. This man is dedicated to his Muppet family.
For me the Muppets are not just a job, or a career, or even a passion. They are a calling, an urgent, undeniable, impossible to resist way of life. This is my life's work since I was 19 years old. I feel that I am at the top of my game, and I want all of you who love the Muppets to know that I would never consider abandoning Kermit or any of the others because to do so would be to forsake the assignment entrusted to me by Jim Henson, my friend and mentor, but even more, my hero.
Whitmire says that he has "offered multiple remedies to their two stated issues which had never been mentioned to me prior to that phone call," and insists this isn't even about him, but about what's best for all of Muppet Nation. "Doing what is best for the Muppets is the lens through which all my interactions have been filtered," he said. "Given the opportunity I remain willing to do whatever is required to remedy their concerns because I feel my continued involvement with the characters is in the best interest of the Muppets." Whitmire never elaborates on what the two stated issues were that contributed to his dismissal, but he does close his post by saying he is "devastated to have failed in my duty to my hero." Kermit duties will now be carried out by Muppets performer Matt Vogel, and he will make his debut in next week's Muppet Thought of the Week. He's got some very dedicated felt shoes to fill.