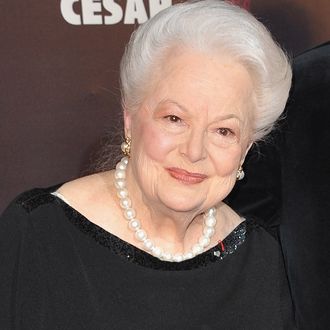 Photo: Francois Durand/Getty Images
Fox is speaking out about the lawsuit Olivia de Havilland has brought against the studio regarding the use of her likeness in Feud: Bette and Joan. While the legal team for the actress is requesting an expedited trial due to her advanced age, Fox says it is prepared to "vigorously defend" its programming against claims of "unauthorized use" of de Havilland's name and identity. The producer of the show, Fox 21 Television Studios, has issued the following statement, via Variety:
"Our project was a meticulously researched dramatization of the well-documented feud between actresses Bette Davis and Joan Crawford. The law on this is very clear: no permissions of any kind were required in order to tell the tale. Docudramas, such as this one, are original narrative works, based on real, verifiable facts and events. By the logic of Ms. de Havilland's attorneys, no producer would be able to tell any stories about famous people, living or dead without their consent. We respectfully disagree with Ms. de Havilland's objections to her portrayal, and we stand by the content, including her portrayal, and will vigorously defend this project."
While Ryan Murphy surely does not like being sued, or being told how to use his artistic license, it does seem like his entire life has been building up to the moment he'd be in a feud of his own with a Hollywood "living legend." Those days when de Havilland had never watched Feud and was unable to entertain any questions on the topic feel like so very long ago.