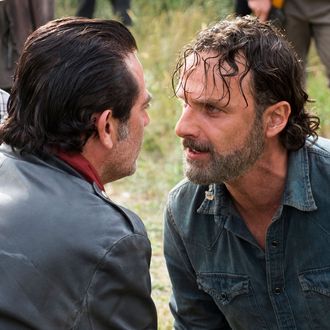 The Walking Dead.
Photo: Gene Page/AMC
As far as vicious insults go, Frank Darabont's emails to AMC executives over The Walking Dead are easily Jonah-level. Darabont, the mind behind every IMDb user's favorite movie, adapted The Walking Dead for the small screen from Robert Kirkman's comics, and the show premiered to much acclaim. After being fired from the show during its second season, Darabont brought a lawsuit against AMC, alleging they "grossly reduced" his profits from the successful show. Darabont and AMC were feuding over a variety of things: AMC wanted the show's budget cut down by 25 percent, Darabont wasn't pleased with new footage, and he also says AMC wanted all of the season-two scripts before filming, an unheard-of request. As part of the lawsuit, some of Darabont's ferocious emails have been released and obtained by The Hollywood Reporter, and they're proof that electronic correspondence with Darabont is no walk in the park. Not unlike the zombies on his show, Darabont was out for blood and guts. Here are his five most savage lines:
1. "Fuck you all for giving me chest pains because of the staggering fucking incompetence, blindness to the important beats, and the beyond-arrogant lack of regard for what is written being exhibited on set every day. I deserve better than a heart attack because people are too stupid to read a script and understand the words. Does anybody disagree with me? Then join the C-cam operator and go find another job that doesn't involve deliberately fucking up my show scene by scene." — Sent to executive producer Gale Anne Hurd and others
2. "Please let's stop invoking 'the writers room.' There IS no writers room, which you know as well as I do. I am the writers room. The fucking lazy assholes who were supposedly going to be my showrunners threw that responsibility on me after wasting five months of my time." — Sent to AMC exec Ben Davis
3. "Ray Charles could operate better." — On his disapproval of the camera operators
4. "It's like we yanked some kid with no experience out of high school and put her in charge of directing a show." — On his dissatisfaction with one director
5. "YOU NEED TO PAY ATTENTION TO THE MOTHERFUCKING SCRIPT! I EVEN CHOOSE MY GODDAMN COMMAS FOR A REASON!" — No context necessary
AMC's lawyers say the emails are further proof of Darabont's "behavioral and interpersonal issues." In an affidavit, Darabont offered a sorry-not-sorry: "The language and hyperbole of my emails were harsh, but so were the circumstances. As for the enormous problems they describe, I stand by these emails to the last detail."
Consider this a lesson: Be careful when composing email to Frank Darabont.