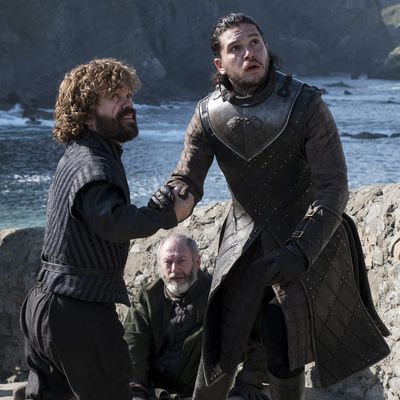 Reunited and it feels so good.
Photo: HBO
In an episode full of uncomfortable reunions, Game of Thrones at least gave us one that went pretty smoothly, when friendly acquaintances Jon Snow and Tyrion Lannister reconnected after six long and strange seasons. Both characters were in quite different places from where they'd been when they last saw each other: Jon Snow had died, come back to life, quit the Night's Watch, and been crowned the King in the North; Tyrion had killed his father, turned against his siblings, allied with Daenerys Targaryen, and dispensed with the pretense that he was blonde. But they were quickly able to return to their old rapport.
With the assistance of YouTube, let's turn back the clock and relive the highlights of Jon and Tyrion's brief friendship.
The pair's first meeting came in the pilot, when a clean-shaven Jon ran into a drunk Tyrion outside the feast welcoming King Robert Baratheon to Winterfell. (In the books, this scene happens after Tyrion does a little bit of gymnastics, a character bit that George R. R. Martin almost immediately abandoned.) A vibe was established: Tyrion was cynical and all-knowing, while Jon was naïve but good-hearted. The two outsiders quickly struck up a bond, with Tyrion's puncturing of Jon's self-pity summarizing how much they had in common: "All dwarves are bastards in their fathers' eyes."
Without much else to do in the early part of season one, Tyrion joined Jon on the trip up to the Wall. On the road to Castle Black, they had one of early GOT's characteristic exposition-filled conversations. Once again, Tyrion fills Jon in on some uncomfortable truths about the Night's Watch, while also uttering another of his iconic lines: "A mind needs books like a sword needs a whetstone."
Once at the Wall, Tyrion saved Jon from some Night's Watch bullies, before giving him a crash course in checking his feudal privilege:
Finally, it was time for Tyrion to leave; the two men wouldn't see each other again until "The Queen's Justice," in season seven. Their good-bye scene underscored how much they'd come to understand each other, with Jon even trusting Tyrion to give his love to Bran for him. As we saw Sunday night, if Jon and Dany are ever going to put aside their differences and team up, it'll be because of Tyrion, and the bond these two formed all the way back in season one.