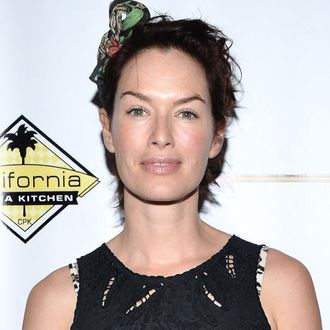 Lena [expletive] Headey.
Photo: Araya Diaz/Getty Images Milk + Bookies
To quote the New York Times, "Are you [expletive] serious right now?" Today the paper published a profile of Lena Headey, which, like all Game of Thrones profiles, can't say much about the plot of the show she stars in, and so instead focuses more on her professional and personal life outside of it. Unfortunately, it's hard to get a great sense of Lena Headey as a person, because, per the paper's longtime style, the New York Times also bleeps out all the expletives she says. (Headey's fond of them.) For instance, the profile begins with her driving and saying, "Are you [expletive] serious right now?" "Fucking," seems like the right answer, here, though of course it could be anything.
The problem is, you learn a lot about a person through the kinds of swears they use. Are they creative? Direct? Do they favor elaborate, David Simon–esque streams of profanity, or do they like the staccato of reliable go-tos? Later, we learn that Headey's divorce was difficult for her and her ex-husband Peter Loughran: "We got through it, but it was a [expletive]." Was it a "shitstorm"? A "clusterfuck"? Each one is ever-so slightly different. And finally, Headey says that Cersei probably won't end up on the Iron Throne in the end, since she has claim to it now, and Westeros is a world full of reversals: "It can't be me because I'm already there. So I'm [expletive]." Again, the obvious choice seems to be "fucked," but without the specificity, the whole thing feels watery and vague, and our understanding is [expletive].