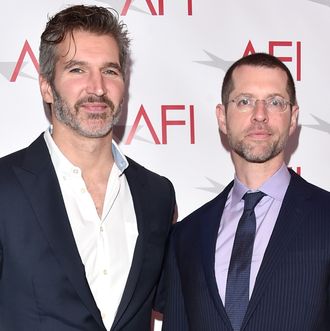 David Benioff and D. B. Weiss.
Photo: Alberto E. Rodriguez/Getty Images
After leaving the bloody land of Westeros, Game of Thrones showrunners David Benioff and D.B. Weiss are heading to the bloody land that is America, or at least something like it. HBO announced today that it has ordered Confederate, a new drama series from Benioff and Weiss that takes place in an alternate version of America where the South successfully seceded from the Union, "giving rise to a nation in which slavery remains legal and has evolved into a modern institution." The series takes place during the the lead-up to "Third American Civil War" and will follow a collection of characters on "both sides of the Mason-Dixon Demilitarized Zone — freedom fighters, slave hunters, politicians, abolitionists, journalists, the executives of a slave-holding conglomerate and the families of people in their thrall." Nichelle Tramble Spellman (The Good Wife) and Malcolm Spellman (Empire) will also executive produce and write the series alongside creators Benioff and Weiss. While the pair will head off to "The Man in the High Castle But Civil War This Time" after the Thrones finale, HBO is still developing a variety of potential Game of Thrones prequel spinoffs. Westeros will live on, and given that description of Confederate, so will the hot-take industry that Game of Thrones fed so very well.