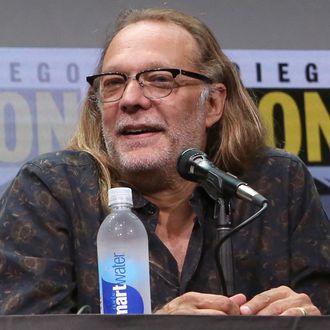 Photo: Jesse Grant/Getty Images for AMC
Plainly put: Without director George A. Romero's Night of the Living Dead, there may have not been any Walking Dead to fear. Sure, the zombie film would have persisted in cinema and evolved over time, but the combination of innovative violence, social awareness, and racial progressiveness found in Romero's magnum opus thrust the horror genre into the future when it debuted in 1968. It makes sense, then, that the Comic-Con panels for both The Walking Dead and Fear the Walking Dead became small tributes to the recently deceased visionary directory.
During the Hall H panel for Fear the Walking Dead, producer Greg Nicotero turned the conversation to his mentor, making it clear that all the fans of AMC's undead programming really owe thanks to Romero first and foremost. "I do want to say one thing. Everybody here, everybody on The Walking Dead, and anybody that's ever watched or read anything with the word zombie in it owes a tremendous debt of gratitude to one man who passed away last week, George Romero," said Nicotero, who was both a friend and colleague of the zombie godfather. "I was honored to work with him and he gave me my first job. I would probably be taking real kidneys out instead of fake kidneys if I hadn't met George, because I was going to be a doctor."
For daily inspiration, Nicotero said he keeps the advice in mind that Romero gave him to embrace the imperfections of visual storytelling and allow for the spontaneity that can make a blood gag or zombie melee feel more real and more terrifying. It's a philosophy he says he brings to both Walking Dead and FTWD, which is probably why you feel so personally violated when a character you love dies. Nicotero also gave it up to the master for the substance of his narrative messaging that went way beyond just awesome-looking bloody entrails.
"He really broke down the boundaries," he told the packed hall. "When Texas Chainsaw Massacre and Night of the Living Dead Came Out, his stories had social commentary. He used the zombie apocalypse to tell the story about what was happening in the world at the time, and we're doing the same thing. In terms of special effects, Tom Savini and George really opened the door for hundreds and hundreds and hundreds of makeup effects artists. Working with him on Land of the Dead and Day of the Dead, I learned every single day."