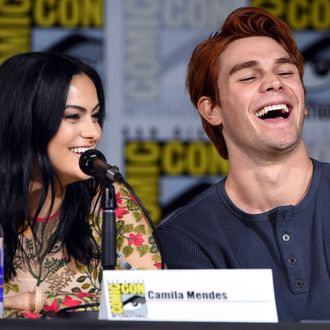 Photo: Mike Coppola/Getty Images
Riverdale got picked up for a second season at the beginning of this year but, until now, we didn't know how many episodes it would be getting. Another tight run of 13? A full network slate of 20 or more? During today's panel at San Diego Comic-Con, Roberto Aguirre-Sacasa announced the show will be returning this fall with 22 episodes packed full of drama, intrigue, thirst traps, shipping, maple syrup, and so, so much darkness.
The showrunner laid down a trail of breadcrumbs for what fans can expect to find in the almost seven more hours of Riverdale programming. "We're going to get to see more of Kevin Keller this year," said Aguirre-Sacasa. "We're gonna see more of Josie. We're gonna see more of the Pussycats. We're going to be able to do as much crime stuff as we want and have enough for the characters and the relationships and the romances." The behind-the-scenes president of Riverdale High also told the crowd they'd like to bring on Jughead's mom and his sister, Jelly Bean, but that it all comes down to casting the right actors before they incorporate the story line.
As far as what will definitely be coming to America's most violent small town this fall, viewers can look forward to Veronica Lodge's bad-boy ex-boyfriend from New York City showing up and bringing some extra havoc to the group's loving dynamic. When asked by a fan what other characters from the comics might appear, Aguirre-Sacasa said that the previously announced addition of Toni Topaz will give the show its first bisexual character. For the Pussycat fans out there, Ashleigh Murray said that Josie "might be batting a few eyelashes at Reggie,"and according to the sneak-peek footage they rolled out at the beginning of the panel, we're also going to see Mrs. Blossom hooked up to an IV drip in a medical bed and covered in full-face bandages, as Cheryl (post-psychotic-break, perhaps) stands over her.
Also, in case you didn't know, season two of Riverdale is going to be dark. From Lili Reinhart: "Last season we saw dark Betty, but this season is more like tortured soul Betty." Thanks in part to that evil ex showing up, Camila Mendes says we'll get our first look at Dark Veronica, and things are going to get so real that Dark Veronica will be even darker than Dark Betty. Poor, sweet, simple Archie is even going to have a lot of bad days, with the shooting of his father pushing him into Dark Archie territory, and since Cheryl Blossom was already pretty dark, we'll call the season-two incarnation Vengeance Cheryl instead. Madelaine Petsch teased a "colder and meaner" Blossom heiress this time around — thanks to all the horrors that befell her family in season one — but said she is also taking the reigns of power from her one remaining parent and will be in charge of her own damn life for once. In other words: It's going to be Apex Dark.