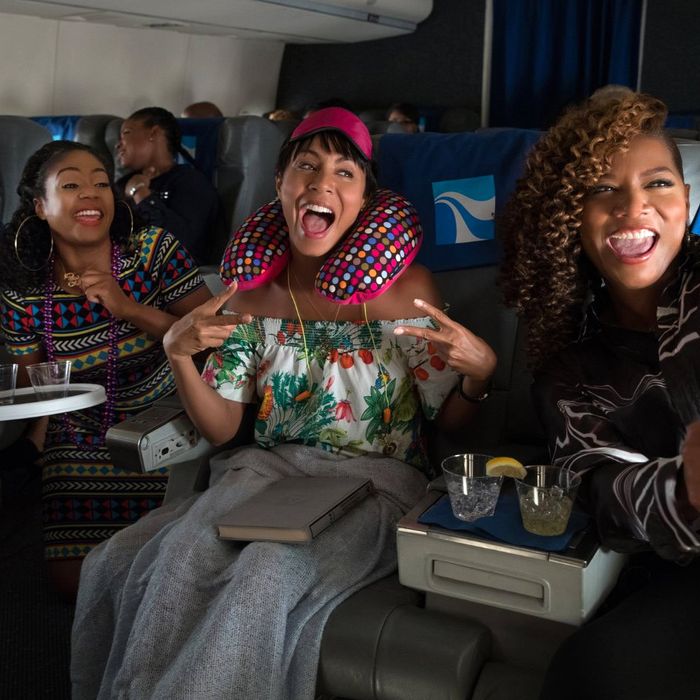 Regina Hall, Tiffany Haddish, Jada Pinkett Smith, and Queen Latifah in
Girls Trip
.
Photo: Universal Pictures
The Big Story:
This weekend, every black auntie you know converged upon their local movie theater to see the Malcolm D. Lee comedy Girls Trip. The Essence Festival–set bacchanalia about a foursome known as the "Flossy Posse" — Queen Latifah, Jada Pinkett Smith, Regina Hall, and Tiffany Haddish — opened to $30.4 million this weekend, coming in second behind Dunkirk. It's the strongest opening for a live-action comedy this year, and the best for an R-rated summer comedy since Ted 2 opened to $33.5 million in 2015, according to The Hollywood Reporter. In a summer stuffed with franchises and comic-book blockbusters, Girls Trip is a rare outlier: a mid-range-budget, original comedy focusing entirely on the friendships between four black women. Appealing to an underserved audience paid off: Girls Trip's audience was 79 percent female and 59 percent African-American, according to Box Office Mojo. And as Vulture's Emily Yoshida pointed out in her review, it effortlessly shuts down every hot take about the death of medium-budget studio comedies.
With an estimated $20 million budget, Girls Trip is already well on its way to profitability. Thanks to widespread critical acclaim (an 89 Tomatometer ranking), delighted audiences (an A+ CinemaScore grade), and one of the summer's breakout performances (is it too early to start an Oscar campaign for Tiffany Haddish?), expect Girls Trip to have legs.
What Else Happened?
Dunkirk, Christopher Nolan's time-twisting war epic, won the weekend. (And because we know you weren't familiar, here's a primer on the titular battle.) The weekend's top earner made $50 million on a $150 million budget. Nolan is a accustomed to slam dunks, but Dunkirk's fortunes were more uncertain: It's a melancholy war movie with few stars, and its glitziest draw is Harry Styles, who only has a few lines.
Nolan's film is the first non-franchise movie to win a box-office weekend this summer. Like Girls Trip, it also won by appealing to an underserved summer audience, in this case, older adults: 76 percent of its audience was older than age 25.
Anyway, poor Valerian and the City of a Thousand Planets. Despite its very good Rihanna scene, the Europa STX–funded French movie flopped with a thud. Luc Besson's ebullient intergalactic space saga made only about $17 million.