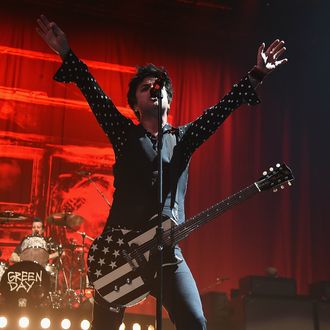 Billie Joe Armstrong.
Photo: Theo Wargo/Getty Images
If concertgoers attending Madrid's Mad Cool Festival were confused by Green Day's decision to still take the stage following the falling death of acrobatic performer Pedro Aunion Monroy, they aren't the only ones. In a statement issued by Green Day, singer Billie Joe Armstrong explains that he and his bandmates had no idea Monroy had died, or that anyone had been injured in an accident at all, until after they played. Had they been informed of the incident by officials, he says, the band likely would have canceled their set.
"We are so sad for Pedro and his family and we pray for them in this time of grief. I can't imagine how much suffering the friends and family are going through," Armstrong explained in the statement posted Sunday. "Many of you are wondering why we continued to play our show after the accident. Green Day did not hear about the accident until after our show was over." Said the front man, "If we had known prior to our performance we most likely would not have played at all. We are not heartless people. The safety and well being at any of our concerts absolutely comes first. What happened to Pedro is unthinkable." You can read his comments in full on Green Day's official website.