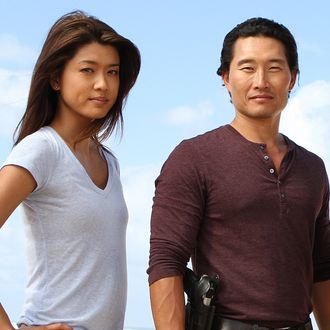 Grace Park and Daniel Dae Kim on HAWAII FIVE-0 in 2011.
Photo: CBS Photo Archive/CBS via Getty Images
CBS confirmed reports this evening that actors Daniel Dae Kim and Grace Park left Hawaii Five-0 over failed contract negotiations. "Daniel and Grace have been important and valued members of Hawaii Five-o for seven seasons," the network wrote in a statement. "We did not want to lose them and tried very hard to keep them with offers for large and significant salary increases."
However generous the salary offers were though, the money on the table was still reportedly less than what was given to the Asian actors' white co-stars Alex O'Loughlin and Scott Caan. The four leads have all appeared in the show since its beginnings and are credited with the same number of episodes. According to The Hollywood Reporter, both O'Loughlin and Caan receive cuts of lucrative backend deals and allegedly earn about 10 percent more than Kim and Park.
Kim wrote about leaving the show after seven seasons earlier today. According to his social-media post he wanted to stay on, but the "path to equality is rarely easy."