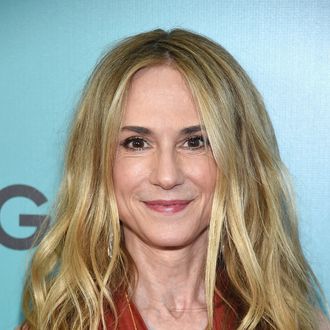 Photo: Dimitrios Kambouris/Getty Images
Holly Hunter has played many mothers in her 35-plus-year career, most recently in The Big Sick, in which she's a sharp-edged, no-nonsense mother whose daughter is in a medically induced coma for much of the film, and in Strange Weather, in which she's coping with the suicide of her son. The strong-willed mother ("forthright, strong, blah blah blah") is a persona she's familiar with — in 2015, she told the Los Angeles Times that she's "often offered roles or women who are very strong, uncompromising." As the Oscar-winning actor and mother to 11-year-old twins told The New Yorker, those roles are part of industry culture.
"It's the sexism of movies," she said. Shielding her mouth to impersonate a misogynistic producer, she whispered, "Cast her as the mom."
But, as she told The Guardian last month, Hunter is a leading-lady character actor. "I don't fit in one slot simply," she said. Let's trust mom here.