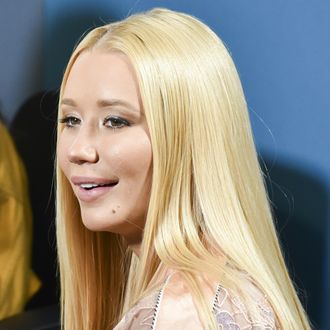 Photo: Rodin Eckenroth/Getty Images
Well. Ya know. Hey. Hope you were clutching your pearls when you read that headline or they'd be scattered all over the floor by now. Dating back to Iggy Azalea's appearance on XXL's Freshman Class cover in 2012, Azalea and fellow rapper/archrival Azealia Banks have drawn deep from the well of beef, deriding one another on and off for roughly half a decade over issues of race, music, and nose jobs. Now, years upon years of online feuding have apparently come to an end: Iggy Azalea has announced that Azealia Banks will collaborate on her upcoming album Digital Distortion.
"Public Service Announcement, Azealia is going to be on DD. We are collaborating," Iggy declared on Snapchat. "Burn your wigs now or preserve them in your freezer for release day." Azalea, about whom Banks said last year, "Let me just kill this bitch," took to Twitter on Monday to defend her decision to partner with Banks. "I dont expect you guys to understand why i would collaborate with someone who has publicly said they hope i die," Azalea tweeted. "This has been something extremely negative for so long, if there is a way to make it positive and also be creative together, im here for it." Get ready for what will probably end up being an excellent single, and for the even-more wig-igniting fallout that will inevitably follow.