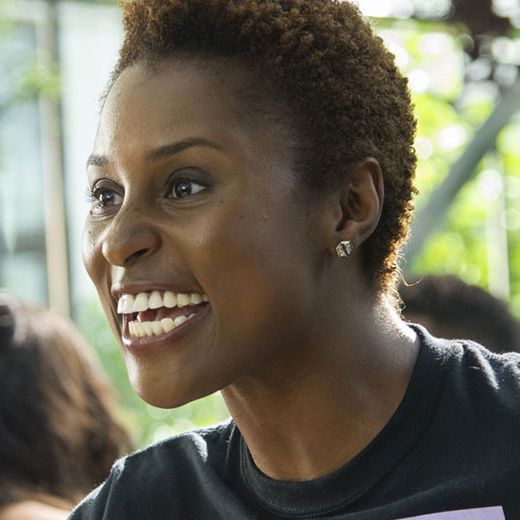 Following a fall 2016 freshman season greeted by rave reviews and strong online buzz, Issa Rae's Insecure is about to get something potentially even more valuable: one of the best time slots in television. The HBO comedy returns for its second chapter this weekend, once again airing at 10:30 p.m. on Sundays, but now scheduled in the summer as part of a lineup that includes HBO's monster hit Game of Thrones, and the network's top-rated comedy, Ballers.
In the era of streaming and binge-watching, time slots and scheduling shifts don't matter as much as they once did. They can, however, still be crucial to helping a series — particularly one still in its infancy — stand out in the flood of Peak TV programming. "My goal is to get as many eyeballs as possible on Insecure," HBO programming chief Casey Bloys tells Vulture. Rescheduling Rae's show to the network's most-watched lineup was the obvious way to do just that, though doing so required a bit of juggling by both the network and the producers.
At some point last fall, according to Bloys, HBO realized the shift of Game of Thrones from spring to mid-summer offered a chance to give Insecure's second season a bigger promotional push. "I'm not sure we had [announced] the date — probably not — but I had some idea the summer was going to be Game of Thrones and Ballers," Bloys says. "So I thought, 'This would be a great platform for Insecure'. What it required was talking to Issa and [the producers] and saying, 'Look, you'd have to speed up your schedule'." Unlike broadcast and even some cable networks, HBO prefers to complete filming on all episodes of a series before a new season begins airing, particularly when a show is brand-new. Insecure didn't air its first half-hour until last October, and didn't get word of a second season until mid-November. "It was originally going to be 10 episodes [in the fall], and we would have to cut it to eight in order to get ready for a July premiere," Bloys explains.
While it would've been possible for the Insecure team to continue production even as episodes aired — that's standard practice with network TV — HBO generally doesn't feel comfortable cutting things so close. "What you don't wanna do is kill the golden goose by putting all this pressure on them with an accelerated writing and production schedule," Bloys says. "It was really with the writing schedule where we didn't want to make them claustrophobic." And so accepting the scheduling move would require compromises by Rae and her team, including showrunner Prentice Penny. They'd be back in production a bit sooner than expected, and they'd be limited to an eight-episode season rather than ten half-hour episodes. "It was a conversation we had with the producers," Bloys says. "Do you want to move ahead, lose two episodes and have this big platform? Or stay at 10 [episodes] and be in the fall. It was their choice. They thought about it … and they decided they wanted to go for it."
There's no guarantee Insecure will turn into a broad hit with the same sort of audience as Ballers or Silicon Valley, despite the added exposure. Even if Insecure doubles its audience and averages one million same-day viewers this Sunday, that will represent just one-tenth the tune-in for Thrones, which scored a record 10.1 million linear viewers last weekend, and likely less than half who watch Ballers. Bloys is realistic about how much a time slot can help (or hurt) a show in 2017, particularly when so many people watch in a non-linear fashion. To some degree, he says, "The audience for a show is going to be the audience for the show. Wherever I put Veep, people are going to find it. Whether it airs on Sunday night or Tuesday night, it's probably going to come up the same number, give or take the lead-in. The lead-in does influence it somewhat, but the core audience is the core audience."
Still, with newer shows such as Insecure, Bloys believes added exposure, however incremental, can still be beneficial. "Obviously having Game of Thrones anchor the night is going to help anything that comes in its wake," he says. "But if [Insecure] were season four or five, it would [help] less. With season two, people are still discovering this show." What's more, even if audiences don't actually stay tuned to see Insecure this Sunday, they're much more likely to at least see a promo for the show on HBO this weekend, or see it mentioned online amid the sea of Thrones tweets and posts. Even in a non-linear age, a show being part of a network's biggest night can help spur audiences to check out episodes on digital platforms like HBO Go or HBO Now. "People write about the night, social media dissects the night, critics review each episode of the shows," Bloys says. "There is some benefit to [being part of] a block of programming."