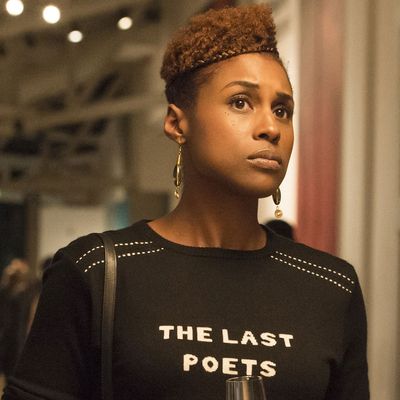 Insecure
is going the
Girls
route.
Photo: HBO
For this first time in its history, the Emmys are set to recognize music supervision on television as an art form, awarding the crucial job of shaping a show's sound its own category for Outstanding Music Supervision. In its inaugural year, music supervisors for Girls, Big Little Lies, Master of None, Stranger Things, and Better Call Saul were all nominated. Kier Lehman, whose résumé includes Entourage, CSI, Being Mary Jane, and The Night Of, has been soundtracking TV series and films for over a decade; his current job as music supervisor for Insecure reunites him with HBO and has won him over a whole new audience. (Even if the Emmys failed to take notice, for now.) From ensuring Issa Rae's "Broken Pussy" rap flowed well to working with Solange (a consultant last season), Lehman's largely responsible for the women-heavy rap and R&B that fills Issa Rae's L.A.
This season, Insecure will carry on the HBO comedy tradition of music premieres: new songs from Miguel, Bryson Tiller, Jazmine Sullivan, Dreezy, and more are set to debut on the show in the coming weeks. Vulture talked to Lehman, who's still securing this season's music as it airs, about collaborating with Issa Rae and Raphael Saadiq, the hardest songs to get, and working up to the wire.
For people who might think music supervising is just creating playlists for episodes, can you explain the nuts and bolts of your job?
Usually my work starts in pre-production. And if it's a music-intensive project – a lot of music performed on camera – I would start very early on helping to select songs and get rights cleared, which could be during the script writing phase. Certain songs need to be written into the script or play a role in a certain scene, and we wanna make sure that we have the rights cleared to be able to use that song and prepare a recording of it, if we needed to, for the shoot. Early on, I'm in conversations with the directors and producers to talk about the musical direction, who the audience is, what the story involves, and what type of music would fit their vision. Then I'll start pulling ideas and researching things. And I'll be on set supervising any on-camera performances or use of music on the shoot. It has to look like it's being performed in an authentic way. I see a project through all the way to the licensing.
Was there a particularly expensive song this season or one you had trouble getting the rights to?
A lot of the songs we're using now are brand new and hadn't had samples cleared or writing splits negotiated. "Scared Money" by NxWorries [Anderson .Paak and Knxwledge] is a song we use in the first episode that hadn't fully cleared the sample in it when we went to license it for the show. Fortunately, because it's such a featured use in our show, we were able to push that process along and cleared it in time.
So it's actually harder securing newer songs than older pieces?
It can be. There's so much behind-the-scenes negotiating and sometimes deals that need to be made aren't done even after the song's released. A lot of the time, licensing a song will be the push needed to get those things finished because there's a promise of getting money out of it now.
Are Issa, showrunner Prentice Penny, and director Melina Matsoukas constantly sending you songs they want on the show?
Definitely. They'll even bring songs to the editor while they're cutting and ask to have it in a scene. "Let It Burn" by Jazmine Sullivan was something Issa knew she had in mind for the end of episode one this season, and she asked me to look into getting it.
Has there been a song you wanted to use but couldn't because of expense or rights issues?
Lots of those. I don't even know if it's okay to talk about some of them. We got a song from Flying Lotus with Anderson .Paak and Thundercat, which we were all so excited about. But there's some issues with the deal on that song that's prohibiting us from using it in the show.
It seems like there's time for it to come together, because aren't you still working on the music for future episodes while the season is in progress?
I'm working on it right now. On Friday, we just finished episode four. This Friday, we're gonna finish episode five. We want to be current and cutting edge, and I think that's what I'm doing anyway. I'm always listening to new music, researching, and fielding pitches on my own. The cool thing is we could find a song on Monday, put it in a show that mixes on Friday and get it cleared in time, and that show will air in a couple of weeks. Sometimes on my network shows, the turnaround is even faster. We may mix a show on Monday that airs on a Wednesday. For Insecure, we're on a tighter timeline than we were last year. It's helpful to stay super current. The last song of episode three is a song that I got after I'd already pitched options and they ended up picking that one. It's "Poppin'" by Rico Nasty.
It essentially means that though we've already heard Cardi B's "Lick" in the season opener, her next hit, "Bodak Yellow," could easily show up in a few more episodes.
It's possible!
In a future episode, there's a party and we see Molly dancing to Juvenile's "Slow Motion" and Too $hort's "Shake That Monkey." How did you pick those songs? They seem so Molly and they're supposed to be songs she danced to back in the day.
That was a specific moment that Issa had in mind, and both those songs they dance to were playing while they shot the scene. Issa picked them beforehand. So they're actually dancing to those songs and that's why it works so well and looks right.
I won't spoil anything, but there's also a pretty wild use of a song from the Weeknd later in the season. That must've been a blow to the budget.
The funny thing is that's one of the songs that's different [from the screeners] when we finish the episode. They had written that episode to take place within a club and there's all this music, plus this scene [using] the Weeknd's music that's already been written in. We had a conversation about if you commit to these Juvenile, Too $hort, and Weeknd songs while shooting, then you've committed to using them in the end even if they're very expensive. The Weeknd is a huge artist and "Starboy" is his biggest song. It would be expensive to license. That episode already has a ton of music in it between the club and the songs we use for general storytelling — I think about 15 songs — so we had to figure out how to save money. So instead, we got a deal on the next single that the Weeknd's label is planning to release from his album around the time when this episode will air. So that scene still has a Weeknd song, but it's not gonna be "Starboy." I think the scene plays even funnier because this other song is so sexy and dramatic and so is the Weeknd.
Were there any other big songs that you had to replace?
Kendrick Lamar's "D.N.A." We worked with Top Dawg Entertainment last season to get "Alright" for the first shot of the show, and they seem to be big fans. RCA even gave us SZA's record early and that's how it ends up in the first couple of episodes. It's a great platform for her. But we had to replace "D.N.A." with a classic West Coast track because it played more to this family cookout scene and Lawrence's relationship with Tasha in that moment. We try hard to pick California artists because this show is so visibly L.A., and we need to match that.
Do you work closely with the show's composer, Raphael Saadiq?
We watch all the episodes together with the producers and editors, and then me and Raphael talk together to decide what needs to be kept and replaced. And Raphael will take inspiration from the temporary score references I make or decide he wants to do something different. Issa and Melina will give direction through these meetings, too, and we discuss what works and what doesn't, and then we all go off and do our thing. There was a lot of back and forth about "D.N.A." Issa really wanted to use "Let's Play House" by the Dogg Pound, and that was a song that we had actually considered to open the pilot. It's close to Issa because she grew up in L.A. and listened to it since she was young. It's a favorite of hers. Prentice was also a fan of that song. But we all didn't agree back then and looked for other songs, and that's how we got to Kendrick's "Alright." So with this BBQ scene, that song came up again and Issa and Prentice were really pushing for that song. This time, it felt right for that scene.
One hallmark of HBO comedies is original songs. Girls was known for getting new music from artists and Silicon Valley occasionally premieres rap songs. You mentioned FlyLo. Will there be songs exclusive to Insecure or premieres this season?
Both. In the first episode, we had a song called "Attitude" from Leikeli47 that's the first single released from our upcoming soundtrack. She made it original for the show and came through and played for us. She said she felt so grateful for the show. We have upcoming music from Dreezy this week and Kari Faux, who wrote a song specifically for us. There's new Jorja Smith in the first episode that's not released. In episode three, we have a new song from TT the Artist that'll probably be on our soundtrack. We'll also have new music from Bryson Tiller, Jazmine Sullivan, and BOSCO. And we'll be featuring new music from Miguel.
Is it important to have your shows be sources of music discovery for fans?
TV and soundtracks are ways of discovery that are becoming more and more prominent. It's a fun and exciting part of the job for me to get to expose artists to new audiences. We want to be a place for artists that wouldn't have this opportunity for exposure to come to and have fans connect with through the scenes.
This interview has been edited and condensed.